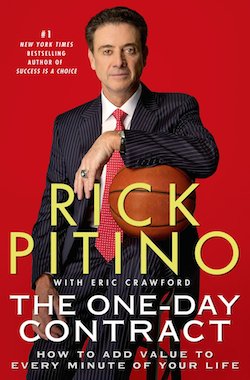 - - -
Under Review:
The One-Day Contract:
How to Add Value to Every Minute of Your Life
by Rick Pitino with Eric Crawford
(St. Martin's Press, 2013, 272 pages)
- - -
It was deep in the night of April 8, 2013. The Louisville Cardinals men's basketball team had just been crowned national collegiate champions, celebratory public delirium no doubt gripping Kentuckians of both mint julep and moonshine persuasion. It was deep in the night and a photo of jolly, inebriated, elated, devoted Louisville fan John Schnatter trickled its way onto the Internet. You know Schnatter by his alter-ego: Papa John. With the pizzas.
It appears that two young, male fans of Louisville basketball and/or Schnatter's pies were out and about, spotted Schnatter, and asked to take a picture with him. Schnatter stands with arm around each young admirer—primarily, it appears, because the two fans were at that point in the night sturdy enough on their feet to keep Schnatter vertical. Papa J's eyes loosely regard the camera from two different angles, his face wearing the small but profoundly sated smile of a true champion.
There's nothing remotely incriminating about the picture. The only thing that Schnatter is guilty of is having a good time after a long day perfecting his shtick for his latest outrageous combo meal value. This photo is, however, hilarious, and it's also a poetic and beautiful collision of celebrity, marketing, and the social medias—especially given that the head coach of that night's victorious basketball team was Rick Pitino. Because let me tell you, Pitino is a guy who fucking loves his brands, and the well-connected executives who run them.
I'm not entirely sure how a lifelong basketball coach became so personally obsessed with the corporate world. I mean, why just be content to dig your seven-figure job where you're supposed to do nothing but think and strategize about basketball all day when you can spend your time developing a personal affinity for corporations and marketing and some totally bitchin' organizational structures?! Am I right?! There is no subject in The One-Day Contract that Pitino cannot infuse with a cripplingly mundane corporate allegory.
A tour of preseason games that Louisville plays in the Bahamas is labeled as an opportunity to "re-creat[e] our brand."
This, from the chapter on humility:
Show me a chief executive officer who keeps all of a $20 million bonus instead of passing some of it along to his fellow executives, and I'll show you someone who lacks humility, and is heading for a fall.
Or this, while diagnosing one of the many things that are wrong with the kids today:
Young people today have a very difficult time sitting in front of a human resources person and communicating their passion, because they are so used to texting and emailing. They are losing their verbal skills completely.
But there is no greater example of Pitino's commitment to brands than when he "faced an attempt to extort money from me" and was dragged into in a very public trial. You see, Pitino had been "interacting with the wrong kind of person."
Oh, are Pitino's only direct quotes about the extortion incident in The One-Day Contract a bit too vague? Plainly speaking: Pitino had sex with a woman not his wife in the back of an Italian restaurant, and then in the ensuing weeks she had called Pitino and said she needed money for an abortion. Talk about a suddenly dire need for a rebranding campaign! It was, to be sure, a climax more thrilling than what The One-Day Contract could ever hope to provide.
As the very-public coverage of the tryst raged in 2009, Pitino reports that he not only maintained full support from his employers and wife, but he also found religion! He joined a Bible study with a local pastor and—here, from the darkest night of Pitino's soul, rises a phoenix of positive brand synergy—Pitino also broke bread over the Scriptures with "the CEO of Yum! Brands," which in case ya didn't know, is "the largest food company in the world."
Yes, Pitino name-drops the members of his Bible study.
Funny, then, that a man so obsessed with corporate trappings (keep in mind that discussion of Pitino's hobby of owning racehorses will have to wait for another review), a man known to deal with the wrong kinds of person would set aside a corner of his book to rage against the materialism that fuels the hypothetical, stereotypically constructed basketball player:
In every player I have coached who has not reached his potential on and off the court, the common missing element in his life and attitude is humility. The overspending, buying ten watches, the decadent lifestyle, the entourages, the unrealistic expectation of their own stature and longevity—all this leads to poor choices and reckless decision making.
Worth noting here is, while Pitino has been continuously employed as a basketball coach since 1974, he has spent a scant eight years of that time coaching in the NBA. He's spent most of his career in the NCAA, where, even though he has taught and improved some of the most already-talented recruits in the nation, at best one or two members of his full roster of players graduate to the NBA each year. If that sounds underwhelming it's not Pitino's fault—that's just how competitive it is to access the NBA, with a globe full of phenoms distilled down to sixty annual draft picks.
The point is: in coaching college teams, just about all of the players that Pitino has coached have played for a rate of zero dollars an hour, earning zero dollars in tips, bonuses, or royalties. While Louisville could more than afford their "re-branding" excursion to the Bahamas, the actual players on the court—who are, it would be hard to argue otherwise, the beginning and the end and the entirety of the "brand"—earned nothing but a working vacation, all the while school was in session. They saw nothing of the ticket gate, the broadcast rights, the jersey sales. They received no kickback on Louisville merchandise, such as the conservative/tasteful Cardinal-logoed red polo that adorned John Schnatter that fateful championship night. Stretched thin between the demands of the college classroom, a constant travel schedule, and the unforgiving competition of elite NCAA basketball, if any of Pitino's players invested in watches, it was probably a lone Timex.
And so here is the thing with Pitino: if you love college basketball, Pitino is no doubt one of the big reasons why you love it. With zest and zeal he leads teams of high character, high GPA, and high skill deep into March Madness on an annual basis, never failing to field a roster that keeps his home arena full. Since he has done this for decades, it is at this point nigh impossible to dispute Pitino's place in the uppermost echelon of his profession.
But let's say that you aren't really a fan of Pitino's profession, the big-time college coach. Let's say you look at the NCAA's arrangement and you see something uncomfortably close to feudalism in a gangly group of teens who earn nothing to daily run and sweat under the watchful eyes and sharp whistle of a multimillionaire manager.
Well, The One-Day Contract will probably just irk your sensitive moral compass and internal sense of justice again and again. And when you get irked you'll probably look at the cover and see Pitino's well-coiffed 'do and sharp suit and piercing stare looking back at you, and you'll wonder just what kind of advance Pitino got for this book. Who knows what that princely sum was, but you'll look at Pitino on the front of his book and think about how funny it is that none of his players, handcuffed by the bylaws of the National Collegiate Athletic Association, none of them could ever churn something out with a ghostwriter and proudly beam in their Louisville uniforms from the front cover of their own book, just to make a buck.