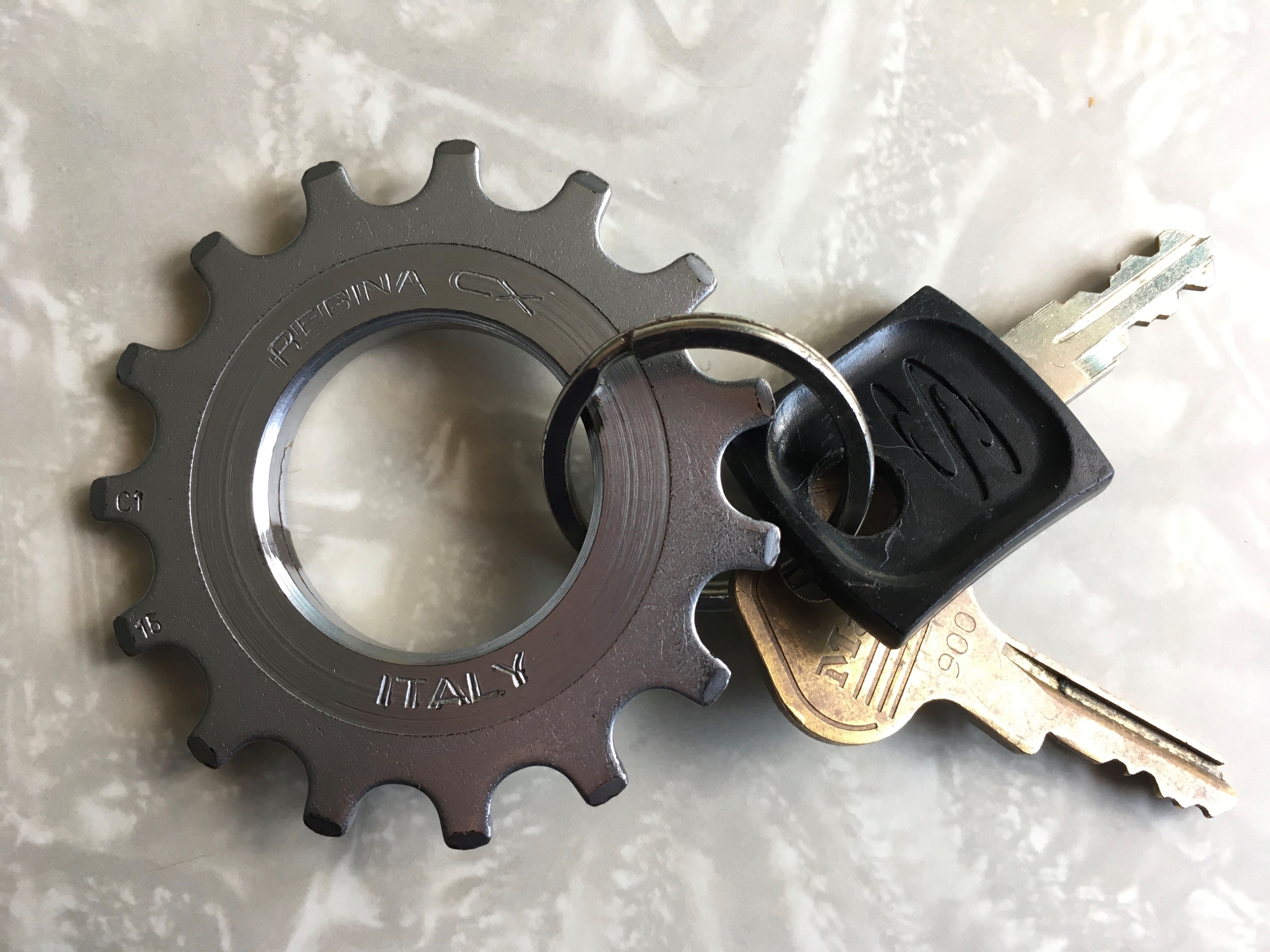 - - -
It broke my heart, it slowly punched holes in my pockets, and once it nearly got me arrested. But this 15-tooth cog — originally a part of a bicycle I raced as a teenager — continues its unlikely existence as perhaps the single possession that's held a continual presence in my life since the mid-1980s.
First, the broken heart. In the summer of 1985, I was 17 years old and a good enough road bicycle racer to qualify for the U.S. national championships, contested that year on a 4.5-mile circuit on the streets of Milwaukee, right on the lakefront. On the very first lap of the scheduled 14-lap event, my drivetrain suffered a fatal mechanical failure, as the smallest cog on my rear freewheel failed under stress. My championship race — an event that had consumed me for a year's time — was effectively over in about five minutes.
It was a bitter pill, but I kept the offending cog to go on my key ring — a reminder of the experience, and of my father's pep talk afterward. Admittedly, it wasn't the best choice for a key fob, as the cog's teeth inevitably ripped holes in my pants pockets. Carabiners on belt loops were never my thing, so I continued to ruin pockets. For years. Because of stubbornness.
But that was nothing compared to the cog's run-in with airport security. I had my keys tucked away in the pocket of my backpack, where the airport's X-ray operator thought it looked like a weapon — a throwing star! I was briefly detained and had to explain myself.
Fortunately, the authorities accepted my explanation that the cog was a misfit bicycle part and not something more sinister. But that incident finally convinced me that the cog wasn't suited for everyday key ring duty. These days, it's a keepsake on a set of keys devoted solely to locking up my bike.
I was fortunate enough to compete in additional national championship races in the years following cog-mageddon, and at least any shortcomings in those events would solely be the fault of my legs, lungs, and tactical acumen — not suspect metallurgy.
- - -
Key Ring Chronicles is a crowd-sourced project that explores the stories behind objects that people keep on their key rings. It was created and is overseen by Paul Lukas, who has kept a quarter with a hole drilled through it on his own key ring since 1987. Readers are encouraged to participate by sending photos and descriptions here.