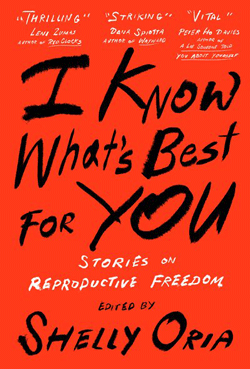 I Know What's Best for You: Stories on Reproductive Freedom, edited by Shelly Oria, is a multigenre anthology with a focus on the crisis of reproductive rights in the United States. The book's international supplement features sixteen additional works of fiction, nonfiction, and art by contributors from around the globe. Order the book, and receive the supplement, I Know What's Best for You All Over the World, free as an e-book. Editor and author Shelly Oria will be touring through the summer of 2022, joined by contributors to the book as well as many other writers and artists.
- - -
Coat Hangers Belong Only in Closets
by Maria Louka
Translated from Greek by Myrto Tsilimpounidi
Fiction
Greece
The easiest way Athens can deceive you in February is by the endless sun that falls on its cement. It creates a simulation of summer. But the city is cold. Really cold.
Anastasia was freezing, running down the stairs of the Syntagma metro station to go to her university. On Mondays she was always late—a bad habit from the compulsory mornings of primary school that she still dragged with her, in her now adult, postgraduate life.
Michalis, Anastasia's boyfriend, tried to tune in to her rhythm—a little condescending, a little irritated. Anastasia validated her ticket and heard the sound of the two glass doors opening, bringing the delightful pier closer.
And there, in the most central hall of the most central metro station of the city, she noticed—among sweet-spoken teachers trying to put children in a row, glum workers coming and going hurriedly, cheerfully lost tourists spinning around their cell phones to find directions—a strange rustle. At the place where advertisements and social messages are hung, people stood before a poster that showed a photo of a fetus in the womb with the phrase: "Let me live." It was the first public campaign initiated by far-right and Christian associations demanding to change the law and criminalize abortions.
"What the hell?" she whispered.
"Terrible. Did you know that?" Michalis asked her.
"Know what?"
"What the poster says, that the child feels pain from the tenth week."
"What child, Michalis? There is no child in the tenth week. It is a developing embryo. I wonder who gave permission to hang this?"
"Hold on, Anastasia, this is informative. It could happen to us too. Let's keep in mind the facts."
"But what are you suggesting now? That based on a terrible poster, full of lies and emotional blackmail, I will decide what to do with my body and my life?"
Glin, glin. Never before has the arrival of a wagon been so liberating.
The next morning, the same tardiness, the same dreamy sun on tight-buttoned jackets, colored scarfs, and red noses. Only Tuesdays were softer days.
Anastasia—without Michalis this time—saw a group of girls with fuchsia masks and glitter in their hair, running happily toward the exit as she got ready to go down the stairs. A dozen well-armed, angry-looking police officers struggled to catch the fleshy fairies. They filled the dock with leaflets and disappeared. Anastasia lifted one from the ground. "We will not go back to the era of coat hangers. My body. My rights," it read. She folded it carefully and put it in her bag.
The truth was, she did not understand how the coat hanger fit in to this message, or what the era of coat hanger was. She was born in the late nineties. The right to abortion was legal and protected by law and it had seemed indisputable—until yesterday's poster appeared.
Grandma Katerina illuminated her memory like a firefly. Anastasia remembered that her grandmother, in the years when she grew up by her side, before she got sick and retired to her own fenced universe, had a strange phobia of coat hangers. She avoided putting them in her house. Grandpa had made a special wooden contraption for her dresses and coats so that she would not need them. And if ever someone brought a hanger home, Grandma would turn pale, as others do when they see drops of blood. Maybe because, in Katerina's mind, the hanger was intertwined with blood. With her own blood, which once ran like a river from her womb, and almost dragged her along.
Anastasia knew that her grandmother's horror about hangers and the feminist pamphlet against the restriction of the right to abortion were, somehow, linked. She had to work hard in order to find the common thread.
The history of women, you see—with all its suffering, insults, bans, and struggles—still remained untold and obscure. In Greece, it had no place in the official records. The mechanism of the devaluation of women intersected with the mechanism of inverted shame, the shame experienced by the victims, in order to create an unshakable volume of silence.
She owed it to her grandmother to find out. Through the scattered fragments of testimonies and information, she discovered that in the sixties, when Katerina was at the end of her adolescence and at the beginning of her love life, abortions in Greece were illegal. They brought punishment and ridicule to the women who dared to have them. Girls from wealthy families were able to sneak into private surgeries, pay generously, and have abortions, always fearing that the police might be waiting for them outside the clinic. However, most girls who came from poor families, or lived in villages, had no relatively safe way to terminate a pregnancy and were forced to use, alone or with the help of a friend, brutal methods that were spread secretly by word of mouth, in order to have an abortion. The most common method was the coat hanger.
Nobody really knows exactly how many girls were lost, were seriously injured, or suffered because they did not have access to legal, safe, and free abortions. In this war on women's bodies, the number of victims is unspecified. Three and a half decades after the right to abortion was legalized, some still want to hold women's canceled desires again, like spoils.
The following Sunday afternoon, Anastasia put on her favorite green dress, bought a bouquet of yellow chrysanthemums, and went to see her grandmother in the nursing home she had been living in for the past two years. She knew that Katerina's memory and speech had faded, but her affect could find ways to manifest its existence. She put the flowers in a vase next to her bed. She washed her hair with a jasmine-scented shampoo, and gently combed it. She read her a funny story. Finally, she took the leaflet out of her bag and put it in her palm. Katerina looked at it for quite some time with a slight tremor in her hands. She turned to Anastasia, who, with her most tender look, kissed her grandmother on the eyes.
- - -
Maria Louka is a journalist and screenwriter based in Athens, Greece. Currently, she's making a documentary and preparing her second book. She writes about gender violence issues, human rights, the refugee crisis, and governance authoritarianism. She was the recipient of the Eleni Vlachou Journalism Award in 2013, Migration Media Award (third prize, 2018), and was four times shortlisted for the European Press Prize.
Myrto Tsilimpounidi is a social researcher and photographer. Her research focuses on the interface between urbanism, culture, and innovative methodologies. She is the author of Sociology of Crisis: Visualizing Urban Austerity (Routledge, 2017) and the co-editor of Remapping Crisis: A Guide to Athens (Zero Books, 2014) and Street Art & Graffiti: Reading, Writing, & Representing the City (Routledge, 2017). Myrto is co-director of the Feminist Autonomous Centre for Research in Athens.
- - -
See in our store
Order I Know What's Best for You: Stories on Reproductive Freedom and receive the book's international supplement, I Know What's Best for You All Over the World, free as an e-book.