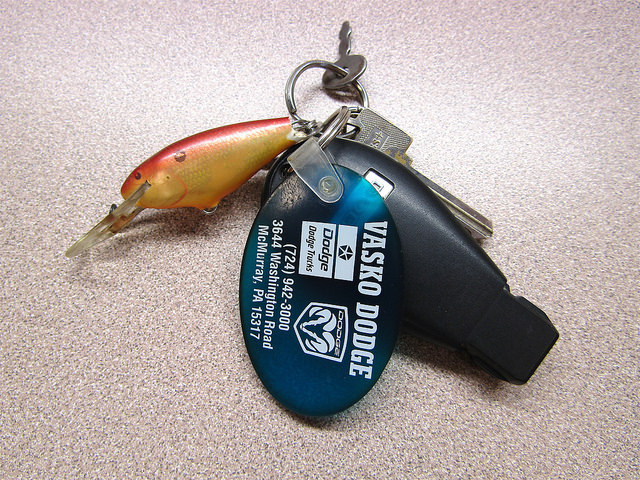 - - -
This is no fish story.
Thirty-some summers ago, a friend and I drove up one day to Castaic Lake, a popular reservoir in Southern California, to do some bass fishing. Since we were young guys and rental boats weren't in the budget, we set up shop on a floating dock next to a huge rock pile, formed when the impoundment was filled in the early 1970s.
I grabbed a small orange lure out of my tackle box, a crankbait, and started casting it parallel to the shore, as close to those huge rocks as I could. Fish relate to structure, so if you wanna catch 'em, you need to put your bait on their doorstep.
I caught a couple of fish, but soon the wind and swells picked up, making it harder to cast and retrieve. Pushing my luck, I threw the lure one more time, closer to the rocks than I should have, and got hung up. Adios, crankbait.
The lure wasn't expensive, but losing it stung, because I had caught some nice fish with it and was trying to get away from relying on live bait. In fact, this lure was the first one I'd ever thrown successfully, marking a step up in sophistication as I became more adept.
So, like a golfer married to a particular putter, I went out and bought the same lure.
Two days later, we went back to fish the dock. I tied the new lure on and picked up where I left off. On one retrieve, I saw a piece of limp monofilament dangling from the end of my lure. Strange, I thought. I followed the mystery line's path and did a double take. There it was: my old lure attached to the new one, tail to tail, treble hook to treble hook.
Incredible — a two-inch piece of painted balsa wood, lodged in the rocks of an enormous lake for three days, snagged by its replacement.
I showed my buddy. He thought I was goofing. But there it was.
The original lure's finish was faded and its hooks slightly rusted, but it was still fishable. I chose not to throw it again, though. No need to press my good fortune and lose it a second time.
Instead, I removed the hooks and attached it to my key ring, where it serves as a daily reminder that sometimes the things you think you'll never see again are never truly lost.
- - -
Key Ring Chronicles is a crowd-sourced project that explores the stories behind objects that people keep on their key rings. It was created and is overseen by Paul Lukas, who has kept a quarter with a hole drilled through it on his own key ring since 1987. Readers are encouraged to participate by sending photos and descriptions here.