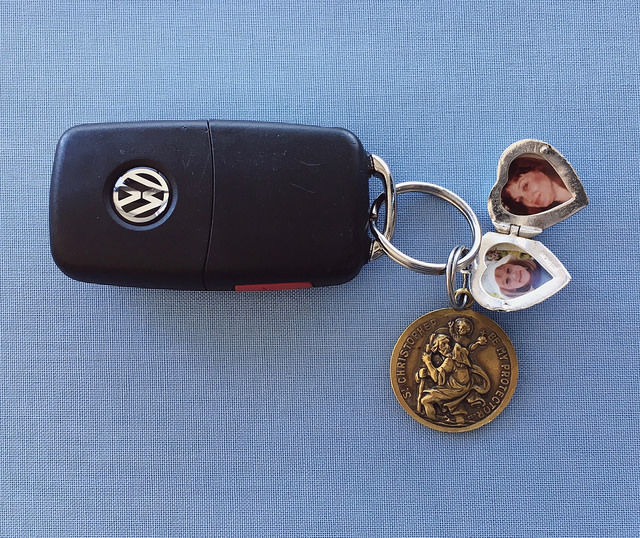 - - -
I have two special items on my key ring — one from each of my grandmothers.
The first is a St. Christopher medallion that was given to me by my father's mother before my first trip overseas when I was 13. She'd had the medallion since she was young and it was her way of extending protection over me through the patron saint of travelers. I don't buy that, exactly, but I think the care imbued within that gesture is powerful in its own way. I was never sure if the medallion was meant to be a gift or a loan, but I put it on my key ring when I returned from the trip and have kept it there ever since.
The medallion also reminds me of childhood days spent in our summer bungalow with the windows and doors wide open and sunshine streaming in. My mother would play the Tom Waits album Franks Wild Years, and "Hang On St. Christopher" was my favorite song.
As for the locket, I'd had it for a while in my jewelry box. I know my other grandmother, my mother's mother, gave it to my mother when I was young. I'm not sure which of them cut out the photos — one of my mother and one of me — and added them inside. My mother didn't care for it, so I took it off her hands at some point.
The dumb-looking, kid version of me in the photo reminds me not to get too full of myself, while the out-of-date photo of my mother reminds me of my great love for her and of the temporal nature of hair and makeup trends. I added it to my key ring and intended to change out the photos, but somehow I became attached to the ones that are already in there and have kept them.
- - -
Key Ring Chronicles is a crowd-sourced project that explores the stories behind objects that people keep on their key rings. It was created and is overseen by Paul Lukas, who has kept a quarter with a hole drilled through it on his own key ring since 1987. Readers are encouraged to participate by sending photos and descriptions here.