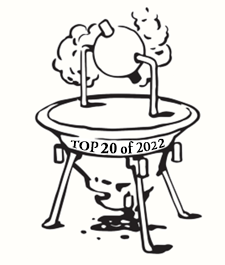 Our 5th most-read article of the 2022.
- - -
Originally published October 25, 2022.
- - -
SUBJECT: I'm DESPERATE, Mom
Mom, did you see this?!?
FIRST: I got a $300 traffic ticket because I forgot about alternate side parking.
THEN: I saw this really cute shirt and it was $95, but that's actually a good deal because I'm definitely going to wear it a lot.
NOW: Rent is due, and according to my most recent calculations, we're about $395 short.
Mom, we don't have a moment to spare. I'm asking—no, BEGGING—for you to chip in ASAP. If every parent reading this email contributes just $197.50 by midnight, we can defend the shirt I just bought from being returned this November.
- - -
SUBJECT: Kiss GRANDCHILDREN goodbye
My sister has emailed you.
My brother has emailed you.
His ex-boyfriend has emailed you.
Dad has emailed you.
And now I'm emailing you—AGAIN—because with just twelve hours left before the newest episode of the Great British Bake Off drops, things have taken a dire turn.
I've just learned that someone has CHANGED the Netflix password in hopes of DESTROYING my Thursday night. This is absolutely unbelievable.
We've tried typing our birthdays all in a row. We've tried typing our birthdays all in a row, but with an exclamation point at the end. But now, we need you.
Please, this is a make-or-break moment. Will you rush the password before this week's star baker is spoiled on Twitter?
- - -
SUBJECT: I've had it, Dad (confirm polio vaccine by midnight?)
I'm in disbelief, Dad. Dr. Fauci has just confirmed what we've all feared: polio is back.
I need you to understand what that means: Our health is on the line. But in a greater sense, MY health is on the line.
I'm launching an immediate investigation into whether or not I am protected from this disease. I know I ask a lot of you, but this is perhaps my most urgent request. Please, Dad: call my childhood pediatrician and find out, DID I RECEIVE THE POLIO VACCINE AS A CHILD?
Text "YES" to confirm that I have received the polio vaccine. Text "YES AND" to also confirm that I received the rubella vaccine since I hear that's going around Bushwick too.
- - -
SUBJECT: Aunt Shelley does NOT want you to read this
Aunt Shelley is FURIOUS!
She claims she hasn't been invited to Thanksgiving. But you and I both know that's blatant misinformation. A quick fact-check confirms: she got a Facebook invite but hasn't responded yet.
Imagine a Thanksgiving dinner without Aunt Shelley's cornbread. NOTHING to sop up the gravy. NOTHING for sandwiches the next morning. And we know this is just the beginning: already, she's threatening not to bring the stocking stuffers at Christmas, even though she's always the one who brings the stocking stuffers, and she comes up with charming ideas for what to put in there.
Dad, I don't have to tell you how upsetting this is.
Will you TEXT COUSIN ELIZA and SEE WHAT THE DEAL IS?
- - -
SUBJECT: Match my contribution to Dua Lipa tickets???
LIMITED TIME ONLY! DONATIONS 2X IMPACTFUL
For the FIRST TIME in months, I am offering a 100% MATCH to any parent who chips in up to $150 for tickets to see Dua Lipa at Madison Square Garden.
Heroes like Dua Lipa fight to slay and be iconic for our democracy every day.
But the big banks are trying to BLOCK her impact by placing a hold on my savings account.
They claim it's because I've "severely overdrafted." Show them they underestimate us at their own peril by Venmoing me whenever you get a second in between surgeries.
And don't forget, no matter what the media tries to tell you: you are not invited to the concert.
- - -
SUBJECT: BREAKING: Nate Silver says (our) WISCONSIN (Dells trip) is A TOSS-UP???
Mom, this is shocking.
Nate Silver's FiveThirtyEight just revealed that there is a 53% chance that we will bail on going to the Wisconsin Dells this year.
The site is predicting that several key family members will DROP OUT:
Uncle Kevin hasn't responded to the group text once
Aunt Yvette said she's taking a Miami trip with friends—how will she have time for both?
An Ipsos poll has found that Grandma isn't really up for too much excitement lately
Listen carefully, Mom: if we don't go to the Wisconsin Dells, we could lose a once-in-a-generation opportunity for a good family photo.
With just 73 days left until it gets too cold to go, can I count on you to just buy plane tickets and figure out the details later?
- - -
SUBJECT: Re: SIGN THE CARD: HAPPY BIRTHDAY NANA
Also, when you get a chance, can you buy the card?
- - -
Read an interview with the authors of this piece over on our Patreon page (unlocked and free to read for all!).