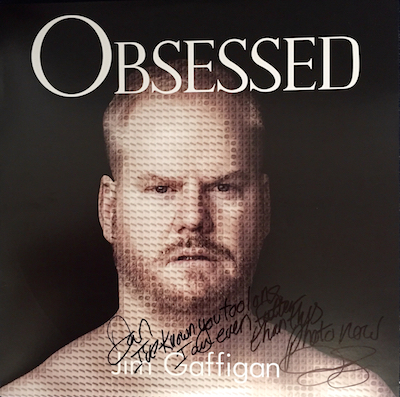 - - -
More than any other form of entertainment, comedy is a study in individual taste, sensibility and frame of reference. While it is the goal of the comedian to get the audience to laugh as one, not every comedian is for everyone. As varied and specific as people's preferences are in food or music, comedy is even more subjective. So when a comedian comes along that most everyone enjoys and respects, it's an astoundingly rare thing. But that is Jim Gaffigan.
I first met Jim in the late 1990s when I was working as a creative executive at Studios USA (now NBC/Universal). At that time, Jim made his debut on fellow Hoosier David Letterman's Late Show. His act was meticulously crafted, squeaky clean and showcased his gift for extended runs on subjects one might not assume would merit such expansive exploration. (He had a long piece about manatees that was a personal favorite of mine.) CBS made a deal to develop a series for Jim through Letterman's Worldwide Pants, as they previously had done to great success with Ray Romano. We became the studio on the project, which meant that we brought resources and creative input. The process of developing a big network sitcom is often a traffic jam of opinions and agendas, but this one felt pretty good, as traffic jams go. And in the spring of 2000, the network ordered Welcome to New York to series.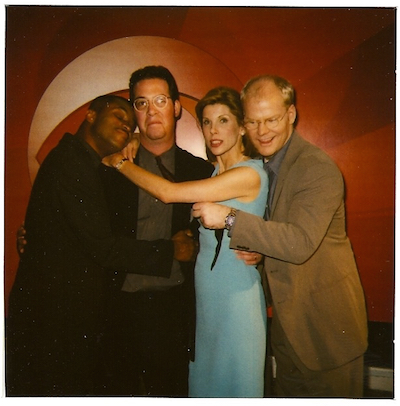 During the course of making the pilot, Jim discovered that I had spent my pre-executive teens and early 20s as a working stand-up comic. From the moment of that revelation on, Jim and I became friends. You see, a bond exists between comedians similar to the kinship felt between military veterans. There's a language and sense of common experience that only comedians share, regardless of age, background or geography. Like the well-worn "you weren't there" cliché among vets, comedians just always seem to relate more comfortably to one another than to "civilians." Cut to the eve of the CBS upfront in New York. Jim and I were in attendance at a celebration at the home of Worldwide Pants executive producer Rob Burnett. Letterman even made a brief appearance at the party, although he pretty much kept to himself. Similarly, Jim and I stood huddled in a corner, never feeling entirely comfortable in our skins. So when Jim decided to duck out early to hit a few comedy clubs for stage time, I leapt at his invitation to tag along. Even as he was about to star in his own TV series, Jim still felt most at home breathing the air of New York City's basement comedy clubs.
Unfortunately Welcome to New York lasted only one season. And while it was a funny, well-produced show, it also really wasn't about Jim. It simply cast him as a TV weatherman from Indiana who became a fish out of water on a New York based morning show. But because the character's name was "Jim Gaffigan," it seemed that this might be his one shot at having a network sitcom. Undaunted, Jim soldiered on with his life and his career. And his perspective and persona sharpened after he got married, had kids and found a niche in crafting long signature riffs on food (hot pockets, bacon, doughnuts, etc.) He also discovered his "inside voice," a device that offered commentary to Jim's material from his imagined perspective of the audience. As I have observed time and again, the best comedians only get better with time. And while Jim was a solid act when we first met, I watched in awe and admiration as he grew to become one of the nation's finest and most beloved comedians.
In 2009, after a decade and a half hiatus from performing, I got the itch to try my hand at stand-up again. And when I say "itch" I truly mean as in the way someone who had been rubbed head to toe in poison ivy gets an "itch." It was a difficult period in my life and stand-up seemed like the cure for what ailed me. Later that year, I was invited to perform at a club in New York City and, to my great surprise, Jim was booked on the same show. To my great terror, I was scheduled to follow him. I begged to have our spots flipped, but comic-to-comic, Jim tried to talk me down, assuring me that as a clean, mild-mannered performer, he's not a tough act to follow. I couldn't imagine how that could be the case, as Jim was now one of the top drawing arena acts in the country. But unlike the stereotype of the hyper-competitive comedian, I knew Jim wasn't the type to set me up to fail. So I accepted the challenge. If anything, I experienced the phenomenon of "the Gaffigan lift," enjoying riding in on the wave of goodwill he created with that crowd. Following him remains one of the highlights of my brief return to stand-up.
A couple of years later, I was working as a development and programming executive at the cable network IFC when I got a call from Jim's manager, Alex Murray. Alex said that Jim wanted to come in for a meeting. Of course I was thrilled to sit down with him, but I was incredulous. Why would someone with such massive broad appeal even contemplate coming into our little sandbox? Don't get me wrong, I was proud of the work we were doing. But our reach was hardly as broad as Jim's. When we met in my office, Jim explained that he'd been through the wringer elsewhere, trying to develop a semi-autobiographical series that was true to his voice. While I understood his frustration, and would have liked nothing more than to bring a big name like Gaffigan to the channel, I felt honor-bound to tell him the truth. I encouraged Jim to continue to fight to get the show he envisioned onto the biggest stage possible, assuring him that if all else failed he could always come back to us. That counsel would be my ongoing refrain every time I saw Jim after that… usually at some big industry event where we'd find ourselves hanging out on the sidelines, as we had so many years before.
The road one travels in entertainment is rarely a straight line. Jim continued to knock on the doors of the big broadcast networks, eventually landing a deal at TV Land for his new series. I visited Jim and his wife and writing partner Jeannie on the set of the show a few months ago. He looked exhausted but happy as he devoured a bag of Auntie Anne pretzels between scenes. He and Jeannie seemed confident in the work. Now having seen the show, I understand why. A few days ago it was announced that it's been picked up for a second season. Finally, Jim is having his moment. And boy is he ready for it.