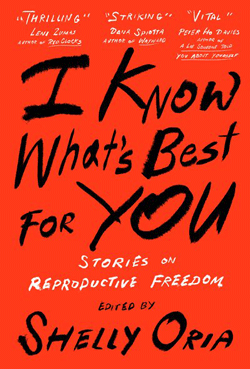 I Know What's Best for You: Stories on Reproductive Freedom, edited by Shelly Oria, is a multigenre anthology with a focus on the crisis of reproductive rights in the United States. The book's international supplement features sixteen additional works of fiction, nonfiction, and art by contributors from around the globe. Order the book, and receive the supplement, I Know What's Best for You All Over the World, free as an e-book. Editor and author Shelly Oria will be touring through the summer of 2022, joined by contributors to the book as well as many other writers and artists.
- - -
Little Green Light
by Rumena Bužarovska
Essay
Macedonia
My country is as small as it is dysfunctional. It seems to me that every year it finds itself at the top of some dreary European list: champions of corruption, lack of media freedom, COVID-related deaths, unhappiness. It's also somehow at the bottom of all progressive things related to former Yugoslavia, except, perhaps, food and music. I'm so used to seeing this spot, smack in the middle of the Balkans, marked dark red that I had to blink twice when I saw a recent map indexing the accessibility of safe abortion in European countries. Unmistakably light green, North Macedonia stands at 74 percent and is the most progressive country in Eastern Europe in access to abortion, right up there with the likes of Switzerland, Belgium, and Spain.
My surprise was twofold: on the one hand, I was quite taken aback to recognize the poor and sometimes even shocking state of women's access to abortion in many parts of Europe, Poland being the well-known disaster. On the other, seeing my country as a positive example was somewhat astounding, as I know well the humiliating experiences women here endure where their reproductive rights are concerned.
As a general rule, and in accordance with patriarchal tradition, women here are treated as inane beings that serve as breeding vessels, perhaps to be gallantly admired and pampered on International Women's Day for rearing boy children to advance the nation and girl children to take care of them. Female sexuality is taboo, and going to the gynecologist is no field trip. Yes, we do have health insurance that covers an annual Pap smear, but the disgrace we suffer in public health care is disheartening, and many—who have the means—decide to go to private hospitals for their checkups.
I've done both—public and private health care. I can't remember whether anyone ever didn't ask me when I was going to have children. Now that I'm forty, I had hoped I would be rid of my gynecologists' concern, but alas, I was wrong. During my last visit, I again got lectured (by a woman—I'm not sure whether this hurts more or less) about how every woman deserved to experience the blessing of having a child. When I was in my early twenties, my male gynecologist would compliment the state of my uterus, saying my "anatomy was beautiful" for bearing children. This same guy operated on my cervix when I was diagnosed with CIN 3—severely abnormal cells found on the surface of the cervix—from an HPV infection when I was twenty-one. Back then, HPV was not talked about here, so I was supposed to keep quiet about my shameful venereal disease, the one I had contracted by committing the cardinal sin of having sex with my boyfriend. On the day of the surgery, I lay stark naked with legs spread on the hospital bed, while the anesthesiologist stuck the needle into my spine to numb the lower part of my body and said, "Woo-ah, fresh meat." Ah, and there was also the gyno who loved sticking fingers into our vaginas in such a way as to rub our clitoris with his knuckles, supposedly checking for pain, but basically finger-raping us. This same guy failed to notice a nine-centimeter fibroid growing on my uterus that I had to subsequently get removed through a very painful and complicated surgery.
So yes, I was surprised to see there was something positive about reproductive rights in my country. But that's just the case for abortion—and it was postwar Yugoslav socialism that was responsible for that freedom. Where it was unusual to talk about sex or protection, back in the old days in Yugoslavia, admitting to several abortions was no big deal, even among women in my family. The rights of women to work and to have abortions in socialist times seemed strangely undisputed, though little emancipation was noted elsewhere in society, especially concerning harassment, assault, and femicide, to name just a few. Perhaps then it is not such a great surprise that when a conservative, authoritarian government came to power in 2006, it introduced a restrictive law on abortion that ruined the lives of many women. But before this, the government provided financial help for a third child born to couples, and launched campaigns on the benefits of having more than two children ("By creating a new life, we are closer to God") and, naturally, the perils of abortion. These campaigns included a barrage of disturbing and bizarre TV commercials.
For the sake of dark entertainment, I will describe my favorite ad. A scruffy, surly man rows a boat toward a pier. A fisherman helps him get out of the boat, but in return he pushes him into the lake. The disheveled man pulls up his pants and proceeds to kick another fisherman's bucket into the water. He then menacingly plods down the lakeside, scaring an old lady walking past. But alas, he comes across a children's playground, where a little girl jumps off the swing and runs straight into his arms. "No matter what you're like, your child will always love you," a woman's soft voice tells us. The ad ends with a red-lettered inscription on a black background, next to something that looks like a postmortem baby footprint: "Choose life. You have the right to choose."
Those days are now over. In 2016, after several years of constant protesting and much political turmoil, the people toppled the regime of the authoritarian government. Our criminal ruler—among other ugly things, the ideologist of the antiabortion law—left his wife and two little daughters behind and fled to Hungary, where he was given exile by his buddy Viktor Orbán. The antiabortion law was overturned in 2019. Women now have the possibility of obtaining medical abortions via health insurance, and sex education is entering high schools for the first time in our history. So yes, despite all, there is a reason for this little green light at the end of the tunnel. I hope it shines bright.
- - -
Rumena Bužarovska (1981) is a fiction writer and literary translator from Skopje, North Macedonia. She has authored four volumes of short stories, which have been translated into several languages, and is a professor of American literature and translation at the State University in Skopje.
- - -
See in our store
Order I Know What's Best for You: Stories on Reproductive Freedom and receive the book's international supplement, I Know What's Best for You All Over the World, free as an e-book.