Hey everyone, with polls officially closed on both coasts, it is time for my annual birthday analytics report. This year, I again saw strong YoY (year over year) growth in the number of 'Happy Birthday!' Facebook wall posts. As you can see, after a striking drop at age 23, I have bounced back to my age 22 levels.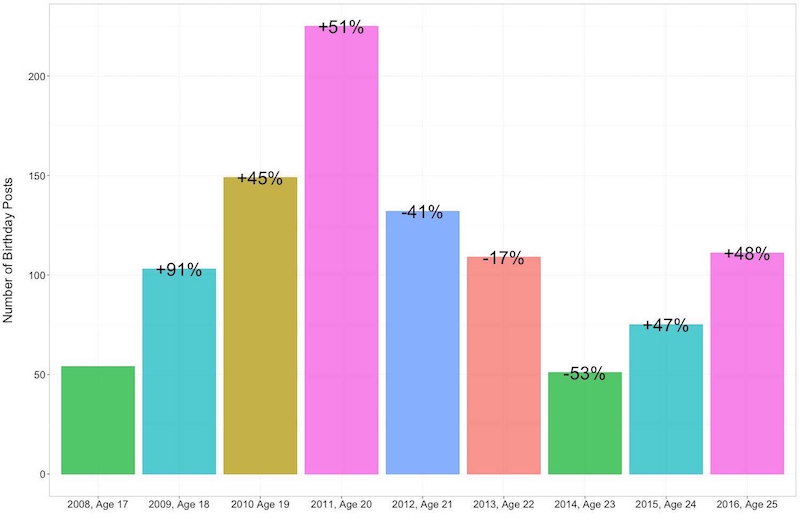 I am unsure of what caused the downtick during ages 20-23, but I can only imagine it's because I stopped paying for likes. Fortunately, I am again gaining ground, and I hope the trend continues upward. However, to ensure that I continue to improve, I need to dig into the spike.
The increase in happy birthday posts for G25 (Ginny Year 25) could be due to:
My increased popularity. For example, when I brought donuts to work on 3/18/16, I was told "Thank You" by four co-workers and "Thanks, Ginny" by two others. These interactions indicated goodwill and could account for up to six posts.
My "Save the Date" cards reminding Facebook friends of my birthday are effective. I had concerns that people would assume I was getting married, but as it turns out, no one has thought that. Weird — need to dig further.
I wrote a Python script to automatically comment "looking good girllll!" on everything Jennifer Williams posted G25.
A close friend, Karen Shen, suggested maybe bad weather on the East Coast could have driven more people to their computers, and then they would be more inclined to send a happy birthday note. Good hypothesis, Karen, except that it would only apply to the .04% of people I know without smartphones. Why don't you think before you speak next, Karen?
I am and have always been uniquely special so it is inevitable that in the end everyone will love me and maybe actually genuinely want me to have a happy birthday.
In addition to growth in number of birthday posts, I also wanted to look at retention. Of the 75 people who wrote me a happy birthday wall post last year, 42 came back this year to do the same. This corresponds to a 44% churn rate, which I find unacceptable. This year, I committed myself to liking each happy birthday post within 15 minutes of receiving it. In doing so, I believe I provided a better user experience for the happy-birthday-wishers in the hopes that they be willing to write on my wall again next year. I anticipate that this will result in a higher retention rate for G26 (Ginny Year 26). I am also going to start a viral meme campaign in which every year on my birthday, people take photos of themselves writing on my wall. It would be like a yearbook, except only about me, and as a result, my friends would be more likely to be repeat happy-birthday-wishers.
I also wanted to examine what percentage of my friends defriended me on my birthday. According to my research, it is very common to defriend your Facebook friends on their birthdays because you're reminded of their existence. I'm proud to report that I started my birthday with 1,068 friends and ended it with 1,066 friends, which means fewer than .2% of my Facebook friends unfriended me. I find it satisfying to know that my existence only drove two people to remove me from their lists. I have several hypotheses for the low defriending rate:
I've already defriended a lot of people. How many is a lot? At least six past sexual partners and four amateur kickball-team's worth.
People want to keep our Facebook friendship intact because my Facebook page always makes people feel great by comparison.
I have diversified my Facebook output, allowing the site's algorithm to include my posts in all newsfeeds, regardless of their age, political preferences, language, or mental health condition. As a result, I've already reminded friends of my existence.
As I always say, the number of happy birthday posts you get on Facebook sets the tone for the year, and Mark wouldn't give us the numbers if he didn't want us to analyze them and adjust our self-esteem accordingly. Anyway, thanks again for all the happy birthday wishes, friends!