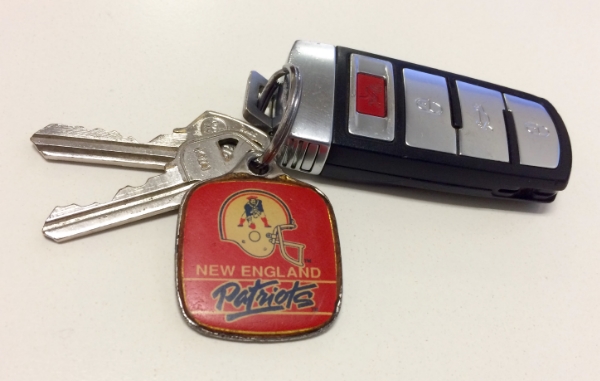 - - -
In 1982, when I was 10 years old, my family moved to from Sharon, Mass., a small town about halfway between Boston and Providence, to Los Angeles.
California represented a huge culture shift for me. I didn't have any Vans skater shoes, Town & Country Surf T-shirts, or corduroy OP shorts. But I figured I could bond with the other kids though sports, so I wanted to get some apparel featuring the logo of my favorite team, the New England Patriots.
At the time, the Patriots weren't the national powerhouse they are today, and internet shopping didn't yet exist. So I did what any ambitious kid would do in 1982: I mailed a handwritten letter to the Patriots' front office and explained that I was a Patriots fan stuck on the west coast, desperately wanting to support the team and represent my fandom.
Sure enough, they wrote back. I wish I still had the reply letter and the sticker they enclosed. Alas, those are gone, but I do still have the Patriots key ring they sent. I've used it for my keys ever since.
I still live in southern California and still root for the Patriots from afar. As it happens, a few weeks back I thought I had lost my keys (fortunately, I later found them). This was initially troubling because I don't have a spare car key. But I was really more stressed by the prospect of losing that Patriots key ring. Car keys are replaceable; a gift sent from my favorite team's front office in 1982, not so much.