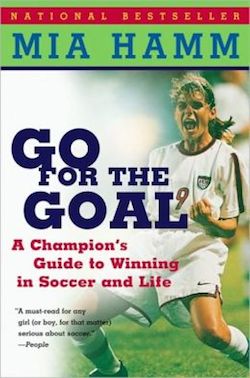 - - -
Under Review:
Go for the Goal: A Champion's
Guide to Winning in Soccer and Life
by Mia Hamm with Aaron Heifetz
(HarperCollins, 1999, 222 pages)
- - -
The curious reader would notice, if they were to scroll through this column's archive, that every Self-Help Book by a Professional Athlete thus far reviewed has been written by an athlete who was born and lives within the mighty, star-spangled boundaries of these U.S. of A. And this review is no exception, as Mia Hamm played exclusively for the United States Women's National Soccer Team as well as the Women's United Soccer Association's Washington, D.C. Freedom. So what, exactly, is my problem? What's with all the exceptionalism, man?
I humbly propose that the bias this column has thus far displayed is not the result of any personal burly, beefy patriotism. To accuse me of lacking a global perspective would hurt me like a lapel flag pin without the protective back part being jabbed into my chest. Rather, I propose that this column's vision of the world through red, white, and blue-colored glasses is the result of a powerful selection bias: that is, it simply does not occur to non-American professional athletes to write self-help books. I don't review them because they don't really exist. The urge to give a tug to the bootstraps of the reading public appears to be, for dissertation-sized reasons I'm sure, a purely American impulse.
Professional athletes from other countries do write books. Oh, they sit down with a ghostwriter for a few hours and churn out gossipy autobiographies with the best of them. But as a trip through the memoirs of the world's biggest soccer stars (read: "the world's biggest sports stars") shows, they are heavy on the straightforward facts and light on the advice. In the last six years, Wayne Rooney has released My Story and also My Decade in the Premier League. His former Manchester United manager, Alex Ferguson, has authored both Alex Ferguson: My Autobiography and Managing My Life: My Autobiography. Zlatan Ibrahimović, in an attempt to clear up any potential confusion, has released I Am Zlatan Ibrahimović. David Beckham, among other titles, has come out with My Story (1999), My World (2001), My Side (2010), and, here in 2014, David Beckham.
From this perspective, the subtitle to Go For the Goal, Mia Hamm's 1999 authorial debut, is quite the departure: A Champion's Guide to Winning in Soccer and Life. Go For the Goal is also quite different from most self-help books by professional athletes in that it rarely strays from the areas of expertise in which Hamm is world-class: playing excellent team soccer, and constantly scoring goals while doing so—or, using Hamm's terminology, to "put the biscuit in the basket."
Hamm has put many a biscuit in many a basket: her 158 career international goals are the second-most by any woman, ever (a total only topped by Hamm's former teammate and current U.S. star Abby Wambach), performances that went a long way in providing constancy for America in the oft-impermanent world of women's soccer. While the United States Men's National Team has had to work their way up to their current status on the international scene as neurotic third-tier contenders, the Women's team has always dominated the globe. The United States women have held FIFA's #1 World Ranking continually since March 2008, with an all-time record of 59 losses, 60 ties, and 416 wins.
These victories have come with very little prestige for women's soccer players—especially those, unlike Mia, who do not reside at the apex of women's soccer talent. When Mia played for the D.C. Freedom of the Women's United Soccer Association, both the team and the league had the shelf life of an underwhelming network sitcom, starting in 2000 and only keeping its head above bankruptcy until 2003. Women's Professional Soccer (WPS) lasted from 2007-2012. The National Women's Soccer League (NWSL) kicks off its second season this spring, managing even to expand from eight teams in 2013 to nine this year. Here, finally, there appears to be sustainability for professional women's soccer—but sustainability here is a relative term, with NWSL player salaries currently ranging from $6,000 to $30,000 per season. Women's soccer has been, thus far, a two-pronged competition: the star must compete against both the opponent on the field and also against the forces of extinction.
And thus there was a fitting opportunity—if not a critical need—for Mia, in the prime of her career, to write a self-help book. Reading a self-help book by a professional athlete feels, on average, like the massive vacuum-suck of inertia that comes when you are pulled into an unwanted conversation with a long-winded relative. Go for the Goal is written with the urgent practicality of a will. Here is how to nurture the next generation once this family leader has passed on/retired. Here are all the materials they will need. Here is the combination for the safe; here is a concise description of team passing drills to run in practice; here is authenticated wisdom about how to avoid crippling team conflicts. (It involves goof-off time and "a tape of any Adam Sandler movie.")
But, ah, most importantly: Here is how to play the game. Not necessarily how to play the game tactically—although Mia covers that, too—but how to play the game emotionally. The answer is: with your whole heart.
If there is one thing I would want readers to take away from this book, it's that the fun—the pure joy of kicking a ball on a soccer field, the time spent bonding with teammates the feeling of being as fit and strong as you can be—is more important than any result.
[…]
To be a great soccer player, you must be in love with the game. You must love its culture, its nuances, the equipment, the skills it requires, the lessons it teaches you, and of course, the passion it creates among those who play and watch worldwide.
One can imagine these words and this book—its publication not so much a grab for money like other self-help books but more like a small step to help the community of women's soccer realize its identity—being read by the girls who would become the women of the NWSL, or the United States Women's National Team. One can imagine that they read the book maybe after practice, maybe with a soccer ball nestled next to them in bed. One can imagine that they listened intently to Mia's words because today's generation of soccer-playing women carries a sense of joy, a sense of team that approaches the familial, and a focus on the game itself—not on financial transactions, not on battles of egos—that feels rare and special. Since Mia's prime, the billowy mullet of Michelle Akers has given way to the bleached pixie cut of Megan Rapinoe; the bazooka goals from the foot of tiny 5'5" Mia have given way to the concrete-busting headers off the noggin of the powerful Sydney Leroux. Like the most meaningful of traditions in the best of families, they are already looking out for the welfare of the next generation. Their passion is pure. Their talent is true.