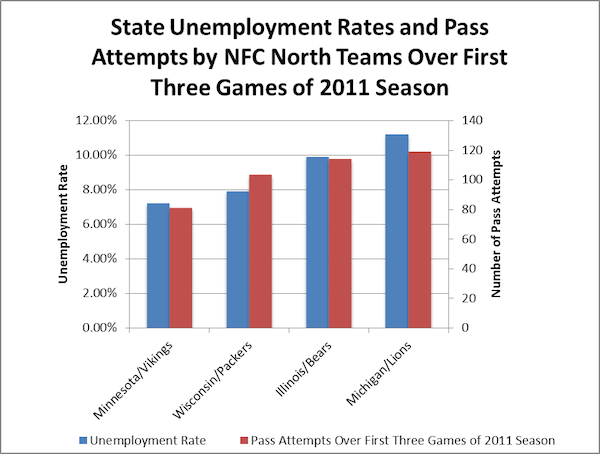 What do lower taxes, a nearly trillion-dollar stimulus, and a deficit reduction package all have in common? Predictably, none of them have improved employment opportunities for regular Americans as much as their proponents had promised. One would think that because conventional wisdom from both the left and the right has failed yet again, our elected officials would take the opportunity to examine available data and concoct a rational plan of action to get Americans back to work.
One, of course, would be wrong.
Politicians, pundits, and, yes, even once-respected offensive coordinators have doubled-down on their own ideologies in the desperate hope that fact will become fiction and fantasy will become reality. While the soaring national deficit plays the part of public enemy number one for Republicans and the disappearing social safety net fills that role for Democrats, no major political group seems particularly bothered by the principal cause of our dismal unemployment picture: overindulgence in the passing game.
Constituencies/fans around the country have varying degrees of cognizance of the damage that excess passing wreaks on their local employment. Bears fans are perhaps the most acutely affected group as they suffer through what history will likely call the "Martz Downgrade" (of the Rushing Game and Employment in Illinois). That the Bears have rushed the ball the third fewest times in the NFL this year will come as no surprise to fans living in a state in which the unemployment rate is the tenth highest in the country and second highest in the NFC North.
Though their rates of unemployment are also high, two rivals within the division have fared better than the Bears. Through the first three games this season, Minnesota has thrown the ball a division low 81 times and therefore enjoys a relatively manageable unemployment rate of 7.2%. Granted, the Vikings lost each of those games, but that's quite obviously the result of inadequacies unrelated to their run/pass balance.
Likewise, the Green Bay Packers have thrown the ball 103 times, the second fewest attempts in the division. Wisconsin subsequently maintains the NFC North's second lowest unemployment rate at 7.9%.
And here's where it gets painful for Bears fans: Chicago has attempted a whopping 114 passes through three games, resulting in Illinois' absurdly high 9.9% unemployment rate. It is well known that offensive coordinator Mike Martz likes to pass the ball, but someone should inform him that the people of Illinois also like having jobs.
Just as Bears fans can take bitter solace in their team not sitting in the basement of the division standings, so too can they take solace in their state not having the highest unemployment rate in the NFC North. The Detroit Lions have thrown a division high 119 passes leading to Michigan's staggering 11.2% unemployment rate. If Michigan would like to create job opportunities outside the Lions' 53-man roster, perhaps the team should consider running more offense through their speedy running back, Jahvid Best and less through their star receiver, Calvin Johnson.
After its first three weeks, the National Football League was on track to set the record for most passes ever attempted in a single season. At a time when the level of unemployment is outrageously high, the nation cannot also withstand such an ostentatious display of aerial excess. As such, for the Bears' season and Illinois' economy to recover, there is only one rational course of action: Mike Martz has to call for more rushes and fewer passes. If Martz won't do that, head coach Lovie Smith must find another offensive coordinator who will. Otherwise, if Cutler continues to throw at his current rate, Bears fans can look forward to not only double-digit losses, but double-digit unemployment as well.
- - -
Sources:
"NFL.com Team Statistics." National Football League, n.d. Web. 1 Oct 2011.