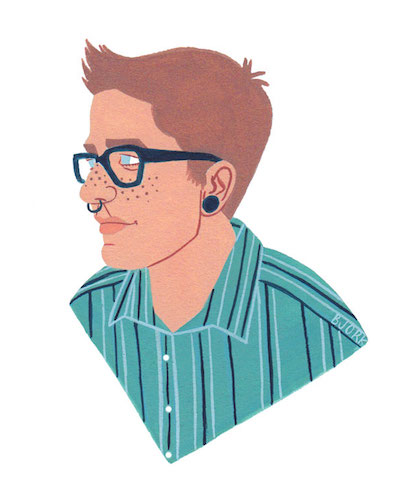 Portrait by Kelly Bjork
- - -
I meet Ryder at a coffee shop near my place. It's a stylish, echoey space with white walls and giant windows, and the barista is so friendly it makes me uneasy. It's late in the evening, and no one's around. Ryder and I find a table overlooking the children's play area, a toy-strewn alcove with waxy plastic chairs in bright colors.
Ryder is slim and freckled and has facial piercings and neatly manicured eyebrows. (Note: Ryder identifies as trans/genderqueer and prefers the gender-neutral pronouns they/their, which I'll use throughout.) I have a couple memories of Ryder from the night of the shooting, but most are vague and snap-shotty, leftovers from the police station. Seated across from me now, Ryder is still, but their presence imparts a poised and aerodynamic quality, in the way of a horseracing jockey who's waiting for the bell.
I notice the milk in my tea has clumped into tiny wads that won't stir away, and then I ask Ryder what they were doing at The Twilight Exit. Ryder tells me a friend was having her birthday party there, and this gathering would double as a GLITUR meeting. "It stands for Glorious Liberated… no, wait." says Ryder, laughing that they can't remember. "Oh my god. It stands for Grand Legions of Incendiary and Tenacious Unicorn Revolutionaries. It's a queer / performance / anarchist / anti-cop / activist group. We met through the Occupy movement. We'd all go to protests and dress up crazy," says Ryder.
Ryder was running a little late that night, and before they went inside, they'd stopped "solidly inside the alley" to have a conversation with an "older gentleman" in a wheelchair. (I've seen this guy before. He appears to be homeless, though Ryder notably doesn't include this as the first detail, or in any of the details, actually. They just say the guy was African-American, had gray stubble, and wore a hat.)
Ryder continues, "I thought he was asking me for a smoke, so I was rolling him a cigarette. But it turned out he was trying to give me one of his cigarettes so I would bum him some change. I was saying, 'I'm trying to give you a cigarette, but I don't have any money.' He was saying, 'No, I'll give you a cigarette.' We were confused and laughing. It was a sweet interaction."
Ryder noticed James approach from the rear of alley. "He walked past us in a rush. I only saw his back. I wasn't really paying attention because I was looking down at the guy in the wheelchair. Then I heard Greg say something like, 'No, man, you're not allowed back in,' and I stopped what I was doing and focused on them."
"What do you remember about James?" I said.
"He was worked up, but he had a purpose," says Ryder. "He held his ground steadily, he didn't step back. I heard 'I'm gonna get her. Let me in.' And: 'She killed my dog.' He was repeating it. He and Greg had a couple other exchanges, but that's what I heard the most. The whole mission seemed to be, like, James had to get into the bar to find a woman that killed his dog."
"Greg was trying to calm him. He'd put both his hands up, I remember seeing his palms. He was making a downward hand motion. He said something, I don't know what. James did get quiet for a second, but then he reached into his side and pulled out a gun. His body was turned in a way so I could see it clearly," said Ryder.
"Did you freak out when you saw the gun?" I said.
"No. I've worked in social services for years, and I've had some crisis-response training. I've dealt with emergency situations and violent situations. So, I was more in work mode, where I stay really clear and calm and hyper-alert," said Ryder.
"What happened after the gun came out?" I said.
"The first thing I heard Greg say was, 'You don't want to do this.' Greg was trying to deescalate James, and he was doing an amazing job. He was saying, 'It's not worth it. Don't go there. Turn around and walk away. Deal with it after you've calmed down.'"
"Where were you? Still standing close by?" I said.
"The guy in the wheelchair and I had backed up from the alleyway and we were on the sidewalk by then, and I'd motioned to him to move to the opposite side of the alley. I was standing behind the building's corner. I pulled out my phone and dialed 911, but I didn't push 'send.' I was watching and waiting."
"What were you waiting for?" I said.
"I've had to call 911 hundreds of times, and I really didn't want to have to call it again. I'd seen the cops act in what they perceived as crisis situations," said Ryder. "This interaction was complicated. I knew if the cops got involved, they would only escalate it."
We talk more about Ryder's former job. They were a manager in a supportive apartment building for chronically homeless people with substance-abuse and mental-health issues. "My coworkers and I knew these folks intimately. We'd seen them every day for years and years. We knew what to expect. We were familiar with their histories, their lifelong traumas, their generational traumas. You watch these crises repeat and repeat and repeat. We were dealing with trauma all the time, but in a very different context."
"We'd seen why cops must have their approaches, for their own safety. But also they never tailored their tactics to fit what was actually going on. Their actions would vary between different teams, and some had a violence-first kind of response." Ryder gives me specific examples. These stories involve cops using tasers and clubs, or beating civilians in enclosed spaces, but Ryder asks that I not share details to protect the anonymity of their former clients. (For the same reason, "Ryder" is a pseudonym.)
"OK. So you've moved away, you're watching, you're holding the phone." I said. "What happens next? Where was Greg?"
"When James first approached, the door had been propped open, but at some point Greg must've closed the door. Now Greg was backed into the entryway. He was still talking, saying something about, 'There's other ways to live with this. You don't wanna go in this direction.'"
"And how was James responding?" I said.
"He wasn't to that stage of, like, 'I'm gonna get you, Bouncer!' James's elbow was locked on his hip. It wasn't an I'm-shooting-right-now pose. It was more like, 'I'm holding this in a threatening manner.' James's body was tense. Not an aggressive tense but like a panicky tense. He was scared. Terrified," they said. "James kept saying, 'I don't want to hurt anybody. Just let me in. I don't want to hurt you.' He said it many times. That was very significant to me."
I notice Ryder's eye contact, and how consistently direct it is.
"I don't think James was simply a mad person or an uber-violent person. His choices had to do with what he believed were his lack of options.Violence might've been the only thing that'd ever shown him a response. He probably had a pattern around this. I'm not trying to minimize the horrific violence he was enacting. He was not being smart about it, but he was responding from a very emotional place."
During the exchange, "Greg had a little time, and he tried lots of different tactics. I've been in his spot before. I was in bodily in danger. I was close to being stabbed. When you're in that moment, you're gonna try everything you possibly have," said Ryder. "I think he really got into James for one moment. I don't know what was said, but I saw a pause, a brief pause. James slowed way down. I watched James's body language shift and he tilted to the side and started wavering. There was an openness, or a kind of loosening that happened. His shoulders dropped, the tension he was holding melted away. I could tell Greg got James to question what he was doing."
"I believe James knew what was gonna happen at that moment. 'If I do this, I'm going to get killed.' The rate of suicide by police is really high. If you have a gun out and you fire at anybody, you are going to get killed by the cops. I think he knew right then he gonna die," said Ryder.
"Then I saw James make himself come around. He worked his steam back up — not to the same bravado energy he arrived with, though. It was a little more knowing. He made a movement like he was going forward with his plan. His body got kind of angled. He took on this tippy side-to-side demeanor. His shoulders and his hips shifted, very subtly. He lowered the gun stuck it out more aggressively," said Ryder.
"The fear came back. The fear came back. And then it was pretty short time. James started to push forward, and then Greg, keeping his hands up, tried to push him away and stop him from coming in the door. That's when James fired. Right before he shot, he very clearly dropped his arm to the side so he would hit Greg's thigh. It was a significant drop."
"I was right at the corner when the gunman fired. I saw a small white burst of light," said Ryder. "As soon as the gun went off, I hit the send button on my phone. I had a ton of guilt about calling the cops. It was extremely traumatic for me when they showed up."
"What happened?" I said.
- - -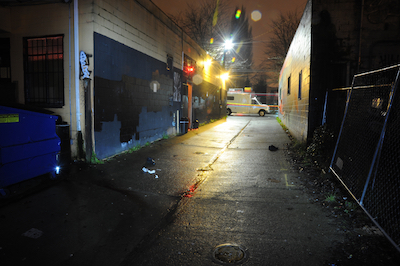 Alley beside the Twilight Exit.
Photo courtesy of the Seattle Police Department.