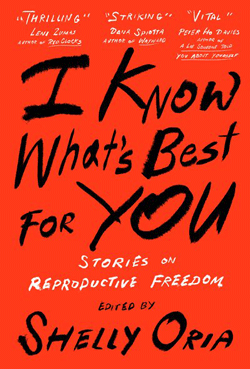 I Know What's Best for You: Stories on Reproductive Freedom, edited by Shelly Oria, is a multigenre anthology with a focus on the crisis of reproductive rights in the United States. Scarlet Letter, by Sarah Gerard, is an essay featured in the book. Preorder the book, and receive the supplement, I Know What's Best for You All Over the World, free as an e-book. Editor and author Shelly Oria will be touring through the summer of 2022, joined by contributors to the book as well as many other writers and artists.
- - -
My husband was unemployed, and I'd been working for two months at a magazine where I stared into a computer screen all day for a near-minimum-wage salary. I confirmed I was pregnant in the bathroom of The Grey Dog on Mulberry Street, the day after I found out my first book would be published, after months of rejection. I was twenty-eight.
I'd been married three tumultuous years. I was dreaming of an exit I wouldn't find for another three. Our marriage from the start was ill conceived—we were young and impulsive. We were living in a tiny studio apartment the size of a prison cell. We called my parents from my husband's car, parked across the street from our marriage counselor's office, to ask them for five hundred dollars.
I called in sick the day I took the second pill. I'd taken the first one the day before and had carried my dead fetus for twenty-four hours. I lay crying in the bathtub with my husband, blood snaking through the water around us, dying it pink, waves breaking through my abdomen.
My grief seemed to stand in opposition to my politics. It was dark and overwhelming, my uterus a cavern. I bled for weeks. I was alone in my body, preoccupied with my perceived debt to my mother's generation for the sacrifices and stands they'd made that had won me freedom from unplanned parenthood. Admitting I was in pain was an unspeakable secret, something I could never reveal, even to myself.
The persistent cultural stigma around reproductive freedom denied me the right to grieve properly, so my anger and sorrow spilled out everywhere. Each successive failure to write about it only underlined its banality. I shoehorned it into the first paragraph of a book review, only to have the editor who had solicited me turn it down. "I had an abortion too," she told me, "but it's really nobody's business."
I'd hoped to give my trauma at least some use. I grappled with the undramatic nature of it: I had not been raped, I was not a teenager, I was not homeless, I was not even single. At the time, I believed that I needed a justification. I don't. Neither do you. I was forced to admit that my story was unremarkable—as it should be.
I have never wanted to be pregnant. Some women find the experience of bodily transformation fascinating; I do not. I felt as if my body had been stolen from me. I've had a conflicted relationship with my body since childhood; I struggle with gender and food. It's taken me a long time to learn to nourish rather than to punish, to understand my body's needs and prioritize them. For these reasons, and others ethical and political, I would prefer to, and I will, become a parent through other means.
It's my choice. I don't need to tell you an abortion was right for me; it's right for one in four American women. I don't need to tell you what happens to women who are denied the right to a safe abortion, or what happens to their children—how often they fall through the cracks of a fractured system, how they suffer—how we, spiritually, as a human race, suffer with them—or how easy it is to find the data of desperation that follows unplanned pregnancies in the public costs of unemployment, government assistance, emergency room visits, domestic violence, hunger, and foster care. I don't need to tell you that the rate of abortions drops with greater access to contraception. That, if I'd had access years ago, I wouldn't be writing this. I don't need to convince you.
- - -
Sarah Gerard's essay collection Sunshine State was a New York Times Editors' Choice, a finalist for the Southern Book Prize, and was longlisted for the PEN/Diamonstein-Spielvogel Award for the Art of the Essay. Her novel Binary Star was a finalist for the Los Angeles Times Art Seidenbaum Award for First Fiction, and was a best-book-of-the-year at NPR, Vanity Fair, and Buzzfeed. Her novel True Love was a Best Book of 2020 at Glamour and Bustle, and winner of an Audiofile Earphones Award. She was the 2018 – 2019 New College of Florida Writer-in-Residence, and recipient of a 2021 Lambda Literary Dr. James Duggins Outstanding Mid-Career Novelist Prize.
- - -
See in our store
Order I Know What's Best for You: Stories on Reproductive Freedom and receive the book's international supplement I Know What's Best for You All Over the World free as an e-book.