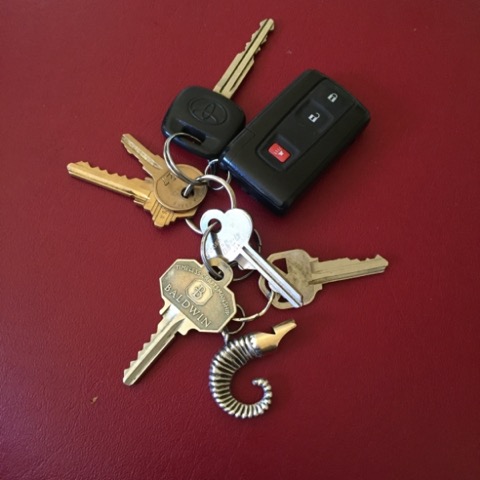 \
- - -
When the call came, I was eating jambalaya while on vacation in New Orleans. It was J, my closest friend dating back to kindergarten. As only children, we're more like sisters than friends. She told me her elderly mother had suddenly died, and the funeral was in two days in New York. There was no doubt in my mind — I cut my New Orleans trip short, flew home to Oregon, and then headed back to the airport to get a flight to La Guardia. I wrote a eulogy on the plane and took a cab from the airport to the funeral home, arriving shortly before the service started.
J's mother, A, had always been a collector. When I was about 12 years old, A made me promise that when the time came, I would help J go through her apartment, so that none of her collections — paperweights, snuffboxes, paintings — would be overlooked. As it turned out, A had become a hoarder in her later years. The beautiful paperweights were still arranged just so in the china cupboard, but the apartment on the other side of the glass had descended into chaos. J and I arrived to find rooms crammed with history and junk and art and garbage and collectibles. Treasures were liberally sprinkled amidst the trash, so every item had to be examined. It was a hugely emotional process for us both, reinforcing our sisterhood.
In a bedroom drawer, under a sea of stained takeout menus, letters from the 1930s, unopened Con Ed bills, and old photos, I noticed a crinkled silver whistle, something A had picked up years ago during a trip to Mexico. Handmade, with a gold head and an interesting shape, it played a loud, crisp note, and I loved the feel of it in my hand. J offered it to me, and I put it on my key ring.
In the four years since then, I have used it many times (once to get the attention of Oregon tourists who were exploring offshore rocks and were oblivious to the incoming tide). My kids think it looks like a ram's horn, but they are wrong. I know it is a shrimp — one of A and J's favorite foods, and the ghost in New Orleans that allowed the call to come through and said, "Put down that jambalaya. Your sister needs you back East."