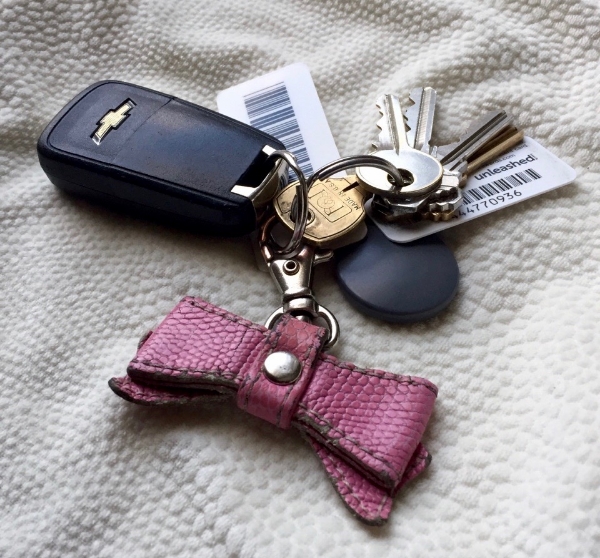 - - -
Sometime during the mid-1990s, I bought a key ring embellishment at Macy's: a pink leather bow with a large silver clasp. At the time it seemed stylish, and it paired nicely with my pixie cut and black Sketchers with unnecessarily high rubber heels. Like the haircut and the Sketchers, the pink bow eventually went out of style. But unlike those other accessories from my youth, the ugly ass pink bow, as I now think of it — or UAPB for short — endured as part of my life.
One day my 11-year-old daughter asked me about the UAPB, no doubt anticipating one of my fun stories about the everyday objects that I've held onto forever. (I'm a bit of a hoarder and sentimental sap.) Until then I hadn't given any thought as to why I've kept it all these years. Various keys to homes and workplaces had come and gone, but the UAPB had somehow "hung on" to the key ring.
All I could tell her was, "I guess I bought it because it made me feel pretty, but now I just like the way it feels in my hand when I reach into my pocket for my keys." The soft leather and familiar shape are a subconscious signal that nothing is amiss. It has been there for so long that its absence would mean that something had gone terribly wrong.
I'm sure she found this explanation disappointing, especially when stacked up against the stories behind the motel coffee mug I stole twenty years ago when I left home for the first time, or the intricate butterfly pin that belonged to my grandmother and now sits on my nightstand. But some of the things we hold onto don't have enthralling backstories. Some of them just begin to feel like extensions of our bodies, and we keep them because they represent order and continuity. Plus I understand that the '90s are now back in style, so maybe I'm still making a fashion statement after all.
- - -
Key Ring Chronicles is a crowd-sourced project that explores the stories behind objects that people keep on their key rings. It was created and is overseen by Paul Lukas, who has kept a quarter with a hole drilled through it on his own key ring since 1987. Readers are encouraged to participate by sending photos and descriptions here.