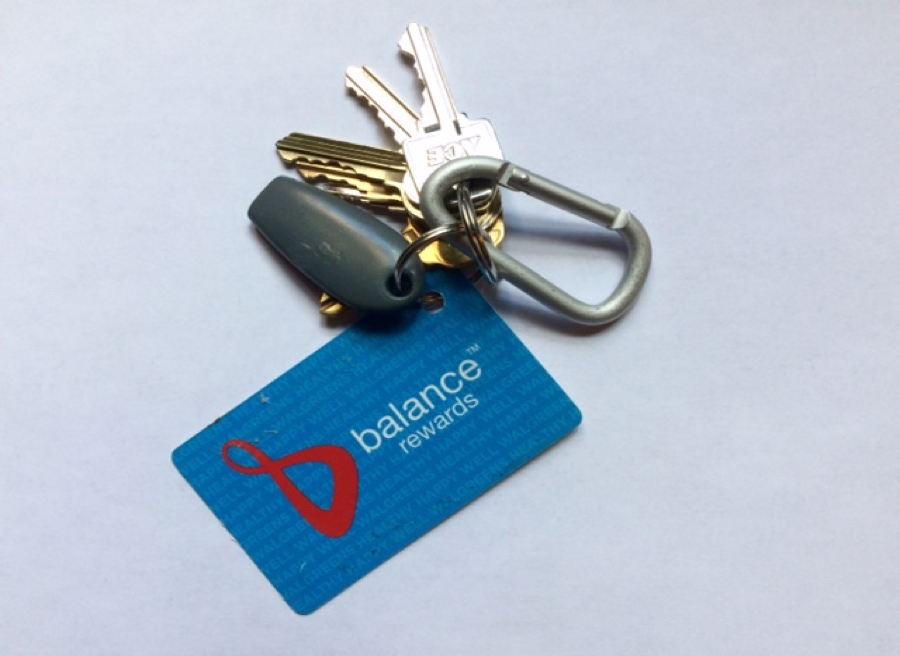 - - -
I keep a wallet-size Walgreens card on my key ring. It's a pain to squash into the key pocket on my purse, but it's a reminder of where I've been, and where I don't want to go again.
About eight years ago, at the age of 33, with good job and a nice husband and an advanced degree and a strict moral code imprinted by my Catholic faith, I started shoplifting from the Walgreens near my workplace. I had never shoplifted before. Not a pack of Starburst in preschool, not a lipstick in junior high — nothing. I was a good person and, more importantly, a good girl, and I knew that stealing is wrong.
But I did it anyway. I didn't slip a bunch of things into my purse and sashay out. Instead, I purchased three or four things at the register and left with an extra item in my purse (a very common method, I have since learned). I'm sure I fooled no one. Apparently this kind of shoplifting is noticed, expected, and mostly ignored if the perpetrator is a nicely groomed white lady like me, especially if she's a repeat customer.
Why was I doing it? I'd like to say it was a cry for help. It's certainly true that I needed help. In the preceding twelve months, the following things had happened: my father had suffered a massive stroke and I had spent several months helping my mother care for him; I had been sexually assaulted in a subway station and put on anti-retroviral drugs, which gave me a constant, low-grade flu and made coffee taste like bloody pear; I had developed an addiction to a quasi-opioidal herb, which among other things produced angry patches of facial eczema, which in turn made me itch so badly that I developed a tolerance to Benadryl and could take five at a time without feeling drowsy; and I was having a nervous breakdown tied to clinical depression.
Honestly, though, I wasn't stealing as a cry for help. I was stealing because I felt I deserved to. I was stealing because I'd done everything right and all the bad things had happened to me anyway. I was drowning in self-pity, I was pissed off at the world, and I couldn't envision the future.
In short, I was having my adolescent shoplifting phase 20 years late.
I eventually kicked my drug habit and got help for my depression. My father died a year ago. I have a different job now, nowhere near a Walgreens. I'm ashamed of having shoplifted, although I've done nothing to redress it. Except this: Walgreens had given me a discount card, which I put in my wallet and never used. As I was recovering from my addiction and other issues, I punched a hole in it and put it on my key ring.
I don't really keep the card on my ring as penance. I keep it because I'm impatient and thin-skinned. I keep it to remind myself at least twice a day of the version of me who couldn't envision a future. And to remind myself that all around you, at any moment, utter desperation is hiding in plain sight.
- - -
Key Ring Chronicles is a crowd-sourced project that explores the stories behind objects that people keep on their key rings. It was created and is overseen by Paul Lukas, who has kept a quarter with a hole drilled through it on his own key ring since 1987. Readers are encouraged to participate by sending photos and descriptions here.