In the funny new book Shakespeare, Not Stirred, two professors (and McSweeney's Internet Tendency contributors), Caroline Bicks and Michelle Ephraim, mix equal parts booze and Bard to help you through your everyday dramas. It's like having Shakespeare right there in your living room, downing a great drink and putting your crappy day in perspective. Today we feature a Halloween-themed recipe from the book, so get out your cocktail shaker and lend them your ears.
- - -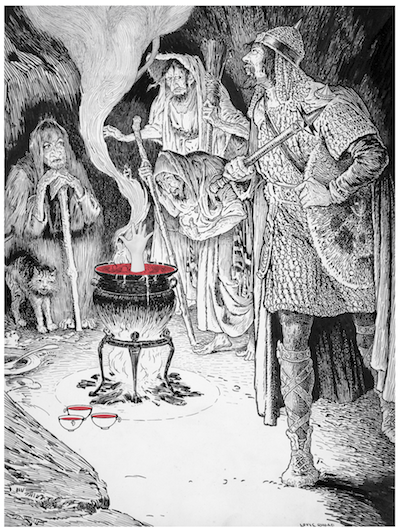 - - -
The Weird Sisters'
Blood and Hand Punch.
"Something wicked this way comes" — right down the old hatch! Macbeth's cauldron-stirring Weird Sisters would love to brew a vat of this Blood and Hand Punch and serve it up at a Halloween party. (They'd also love to come to your kids' birthday parties and christenings, so consider yourself warned.) If the Witches' everyday antics involve chopping off thumbs and damning infant souls, just imagine what fun they could conjure on this official witch holiday!
2 surgical gloves and string
13 ounces blended Scotch whisky
13 ounces Heering cherry liqueur
Using surgical gloves as a mold, fill with water and tie them off at the wrist with string. Freeze, then peel off glove to create ice hand. (You can also make ice thumbs by filling just that digit of each glove with water and tying off at its base.) Mix drink ingredients together in a punch bowl and float hand or thumbs on top. Serves 13.
- - -
Excerpted from Shakespeare, Not Stirred: Cocktails for Your Everyday Dramas by Caroline Bicks and Michelle Ephraim with the permission of Perigee, an imprint of Penguin Random House. Copyright Caroline Bicks and Michelle Ephraim 2015. Image courtesy of Folger Shakespeare Library.