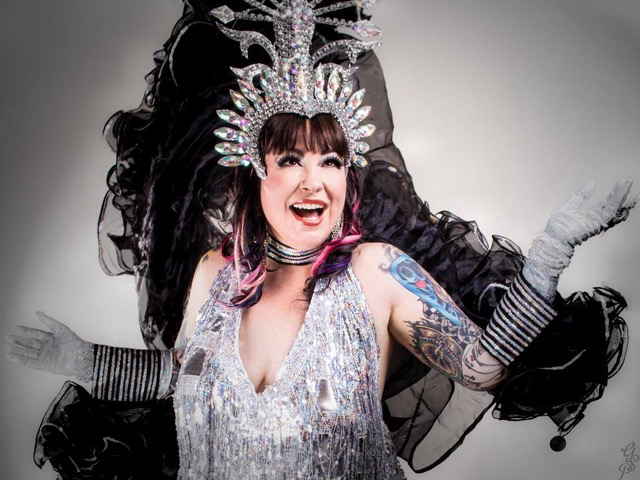 - - -
Q: How did you come to produce drag shows?
A: I had worked in radio, public relations, voiceovers… I was married to a man and after we had kids, I stayed home with them. I was 41, had a beautiful family, but I felt something was missing.
I had no idea that a much-needed night on the town would change my life.
I went to a burlesque show and out came this beautiful plus-size woman. The crowd went crazy for her. I had always wanted to try burlesque, but felt I wasn't thin enough. Her confidence inspired me!
After the show I went up to the producers and asked, "How do I become a burlesque performer in your show?"
They said, "Do you have experience?"
And they didn't really specify the type of experience! So I just said, "Yes."
They said, "Get two routines and come back in three weeks to do the next show."
I remember thinking on the way home, "What have I done?!"
Q: You're crazy.
A: I'm an adventure junkie!
Q: So how did your first show go?
A: I don't remember! I walked on stage and I left my body and Charlotte took over. The moment I walked off stage I was asked to join a burlesque troupe. Now, I would not suggest this route for people wanting to perform burlesque. Take classes. Learn the art form from trusted instructors….
Q: How did you go from doing burlesque to doing drag?
A: Shortly after my burlesque debut I went to a drag show. Each male or female impersonator who took the stage had a huge crowd screaming their names. It didn't matter the shape, size, look — the crowd went crazy. The night inspired me.
I had the idea to do a show where everyone was welcome, where everyone could strip. Even drag queens and kings.
I asked the club owner for a meeting, and pitched her the idea. I thought she'd give me a random Tuesday. No. She wanted the show for a Saturday. I chose the last Saturday of the month. She asked for the name of the show. I immediately said, "Last Saturday… Last Saturday Strip!"
Everyone told me my idea would fail. I was able to convince some drag kings, queens, and burlesque girls to try the show, but no one thought it would work.
We debuted to 500 people. We are now in our fifth year of production, and the show remains one of the most popular must-attend monthly events. We keep it fresh with new theme ideas, and I'm always scouting new talent.
Q: The show took off that quickly?
A: Yes! I was suddenly a name in both the burlesque and the drag world. I was asked to work for other drag clubs too.
Keep in mind that I am a female, and I don't do drag. It's not normal for a woman to do this, much less a middle-aged stay-at-home mom. But I became a big name in the drag community.
Q: What are the shows like?
A: My shows are outrageous night club shows, or more intimate bar cabaret style shows. Not fancy, not big productions, but the shows have heart and a message. It's odd for a nightclub setting, but that's how they work.
I have 8-10 shows I produce at various venues around St. Louis. I'm also requested to emcee anything from birthday parties, wedding showers, charity events, to "lifestyle parties" for couples. Yes, swinger parties.
Again, how crazy to live this very normal day-to-day mom life, then get in a feathered robe and be on the microphone at a swinger event!
Q: What are you like on stage?
A: My specialty is in my emcee style. I have a quick wit and zero filters. I try to connect with each member of the audience.
I do perform on occasion, but I usually leave that up to my younger performers. I'm at least 20 years older than most of them! But I still do strip tease acts from time to time. Even though some of what we perform would be considered risqué, I offer my performers a safe, supported, communicative environment.
Q: This sounds like a really nice, safe setting.
A: The way I am on stage — I feel what the audience gives me and I give their love back. I have that empath vibe. Everyone in the room is valid and beautiful.
One club where I perform is 18 and up, so we attract the LGBTQ youth of St. Louis, and those who support them. I give the kids who come to the shows a place to feel wanted, valid, and supported a few hours a week. I give the young drag performers, or established ones who want to try something different, a supportive space to be creative. Not all my drag shows are strip shows, but I do allow drag entertainers to experiment with their drag.
Q: Where did the name "Charlotte Sumtimes" come from?
A: It's actually based on a book that inspired a song by The Cure.
I am NOT Charlotte Sumtimes, the character I play on stage. I am a 46-year-old stay at home mom. I'm quiet, I'm the listener, I'm a bit of a loner.
When I am Charlotte, look out! My entire personality changes.
Q: It sounds like your shows are popular in St. Louis.
A: They definitely attract a certain type of audience member who craves variety, the unexpected, and my inclusive hosting style. Unfortunately this industry is so unstable… I don't know how long a job will last. That's showbiz.
I'm not getting any younger. I started this late in life. I love what I do so very much. Fortunately right now I have offers to expand my business. I recently bought my first house on my own. This school year with the children will be entirely about me balancing my two very different lives. House and home ME, and the wild stage Charlotte. Can she do it??? It's a little scary!
Q: I think you can.
A: I have learned to treat each day I am employed as a celebration.
I'm on my own now, and I am now a proud lesbian! For me, this whole experience changed my life. I feel like drag helped me grow up and find myself. Not something you'd hear a midwestern middle-aged mom say, but that's the life of Charlotte Sumtimes!