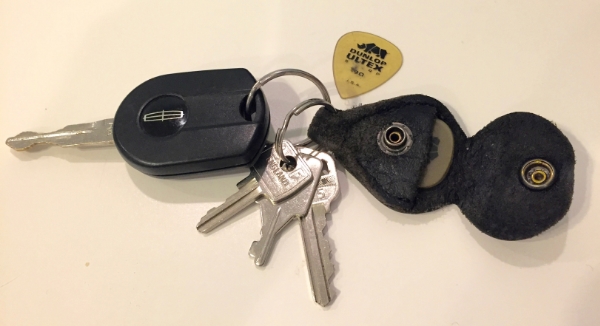 - - -
During college I often found myself in sorority houses that had an acoustic guitar or two laying around. I'm a good guitarist, so I'd get excited by the opportunity to play a bit and impress the girls, but in many instances there was no guitar pick on hand. So I put a snap-closure pick holder on my key ring. That way I'd never be without a pick.
That first pick holder lasted me from 1999 until about 2007, when it wore out. It was nearly identical to the one I have now. This one has held up better, in part because I now drive a car that that has a keypad entry system, so my keys spend less time in my pockets. Like its predecessor, the holder can comfortably handle about five picks and doesn't take up much space. (As an aside, the two mini-keys on the ring are for the cases that hold my two most prized guitars: an original '57 Strat and a '65 Gibson ES-335.)
I'm 38 now — married with a baby and not trying to pick up girls at sorority houses. But I still keep the pick holder around for those times when my musician friends want to jam. It also keeps me from losing my picks and having them turn up all over the house. And even now, you never know when you're going to encounter a guitar laying around that could use some playing.
- - -
Key Ring Chronicles is a crowd-sourced project that explores the stories behind objects that people keep on their key rings. It was created and is overseen by Paul Lukas, who has kept a quarter with a hole drilled through it on his own key ring since 1987. Readers are encouraged to participate by sending photos and descriptions here.