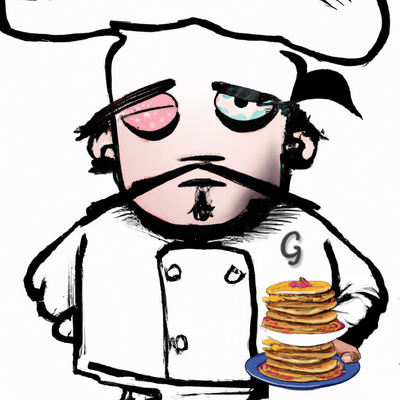 Gerk Jervis
Gerk Jervis was the mascot of Pancake Tramp locations across America. An animated chef with one eye, he shook when he wasn't drinking and made a deep moan or growl when the food he was having made him happy. Gerk was always happy at Pancake Tramp.
- - -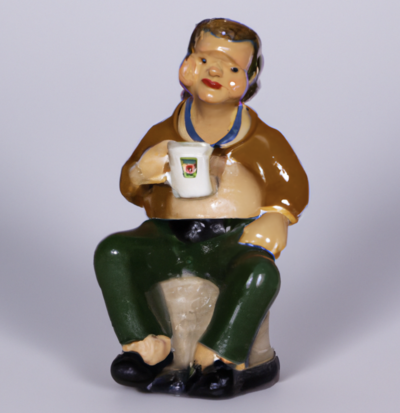 Carl Drip
Carl was seemingly nothing more than an animated version of a very average man who simply wanted value for his money when he visited nationwide coffee shops owned by Gemspots Incorporated. He often appeared next to a tiny economy car in advertisements for everyday low prices on drip coffee and breakfast items. It was rare to see a Carl Drip illustration or figurine that hadn't been violently defaced.
- - -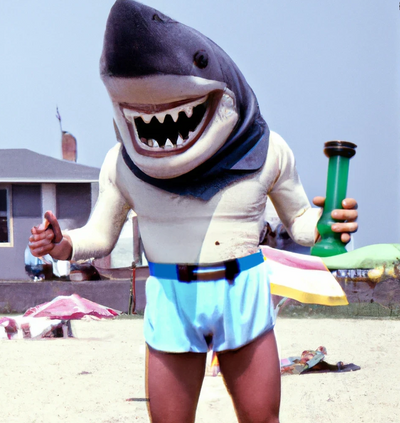 Raddy!
Raddy was a shark in old-timey swim trunks who loved nothing more than catching waves and eating lunch at Mr. Rad's® Hawaiian Barbecue locations in Los Angeles and Orange County in the '80s. Raddy was sometimes pictured with a long translucent green plastic tube that appeared to be partially filled with water and had smoke wisping from the top. Spokespeople for parent company California Consolidated Concepts said this was "a very long, skinny soda emitting a cool, refreshing fog."
- - -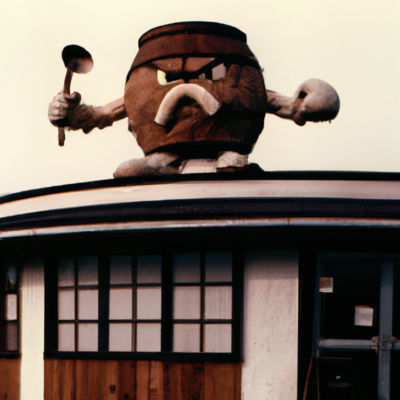 Bung Corky
The conical, tan, stout little brute known as Bung Corky was the mascot of Soup Cask, a Massachusetts-based casual dining enterprise that served primarily soup. With a barrel-themed decor throughout its northeast and southern locations, Soup Cask played with the theme of being something between a distillery and a shadowy ring of bootleggers, but for soup. Bung Corky was the sort of Vito Corleone of the operation, and urban myth said this feisty li'l plug had been based on FBI Most-Wanted Fugitive and Massachusetts mob hatchet man Whitey Bulger. Bung's catchphrase was: "Soup so good, I'd kill for it!"
- - -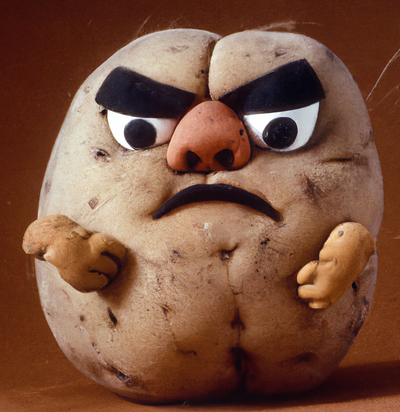 The Angry Potato
The Angry Potato was the steaming, furrow-browed, eponymous mascot of this Seattle-based chain of baked potato fast food franchises. In the 1970s, the profanity-laden menu of Angry Potato locations across the Pacific Northwest was as spirited as an off-season crab fisherman full of bourbon. It was a special night when polite suburban parents allowed their giggling kids to order verbatim one "Goddamned Baker with Son of a Bitch That's Smokey Sauce®, please." By 1984, the chain had resorted to a G-rated version of the menu, and one would lifelessly order a drab-sounding "GB with SOB sauce." But rest assured, in its prime, Angry Potato locations were awash in giddy choruses of happy families and everyday people succumbing to fits of laughter while ordering a "Fucking Smasher with Goddamn Fried Onions and a side of Vegetable Medley Bullshit®, please."
- - -
All images were generated by DALL-E using the descriptions in the text.