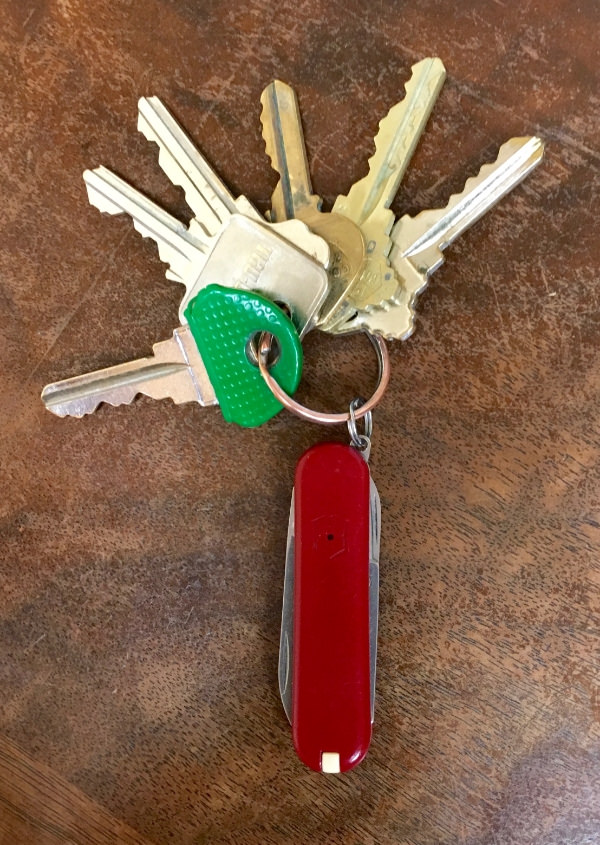 - - -
Twenty-five years ago, when I turned 13, I received a Swiss army knife as a bar mitzvah gift. It was blue and had a Jewish Star in place of the Swiss cross. I kept it on my key ring until the plastic cracked off, at which point I replaced it with the more familiar red model. I've kept a series of Swiss army knives on my key ring ever since.
This habit runs in my family. My dad has kept a Swiss army knife on his key ring for many years. When I got that first one, he told me I'd find a use for it almost every day, and he was right. Often I use it to help other people fix this or that. They're always surprised by the knife's usefulness and impressed that I can produce it at a moment's notice. The Swiss army knife has become so symbolically important to me that I gave monogrammed versions to my groomsmen when I got married.
I've had to replace my knife a few times, especially after the terrorist attacks of Sept. 11, 2001. I was working in Washington at the time and was frequently going in and out of government buildings with metal detectors and heightened security. Sometimes I'd remove the knife from my key ring and hide it outside the building in a planter or behind a newspaper vending box so I could retrieve it after my meeting, but there were times I forgot to do this and had to surrender the knife. I've also lost several knives at various airport screening checkpoints.
The Swiss cross on my current knife recently fell off (you can see the little pinhole where it had been attached) when my daughter borrowed the knife during a birthday party we attended. I love that she knows I always have the knife at the ready to help her and her friends. When she gets independent enough to have her own keys, I plan on getting her a Swiss army knife of her own, passing along our family tradition of always being helpful and prepared.
- - -
Key Ring Chronicles is a crowd-sourced project that explores the stories behind objects that people keep on their key rings. It was created and is overseen by Paul Lukas, who has kept a quarter with a hole drilled through it on his own key ring since 1987. Readers are encouraged to participate by sending photos and descriptions here.