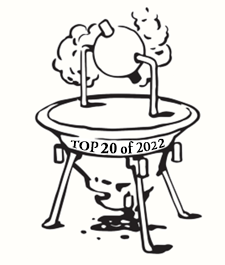 Our 12th most-read article of the 2022.
- - -
Originally published September 15, 2022.
- - -
As of this date, the citizens of Spirit Falls approve the following resolutions:
1. Any ex-lovers of residents of Spirit Falls must file, in writing, their intent to enter city limits ninety days before an intended visit. The paperwork must include a notarized affidavit of intent to not participate in, instigate, or be the recipient of romantic gestures.
2. We, as a community, no longer have boutique small businesses that require saving. The following businesses have been brought back from the brink of corporate take-over and/or foreclosure and/or family disagreement threatening financial ruin:
Our used bookstore, Second Chance Books
Our coffee shop, Coffeenation
Our combination coffee shop and used bookstore, Bean There, Read That
Our doughnut shop, Fried and True
Our combination bookstore and doughnut shop, The Hole Story
Our brewery, Hops to It
Our florist, Business is Blooming
Our bakery, Muffin to See Here
Our combination florist and bakery, Flour Shop
Our combination wedding dress shop and bakery, I Dough
Our combination wedding dress shop and pet day spa, Bride and Groom
3. Local lumber industry professionals should refrain from wearing tight flannel shirts in public.
4. Our town festivals (Spirit Falls All-Hallows Bash, Unspecified Winter Celebration, and Summer Festival Strangely Overblown for a Town This Size) have a clear management structure and budget in place to ensure their success and need no assistance from big-city lawyers fresh from a break-up; spunky accountants returning home for indeterminate reasons; writers looking for meaning in their life; or dog walkers whose cars happened to break down at the city limits six months ago and for some reason are still here.
5. Our hotel, The Spirit Inn, offers only rooms with two beds.
6. Our bed and breakfast, The Falls Inn, has no beds at all.
7. The Falls Inn has a preordained inheritance structure, which the owner's will specifies will be left only to family members who have not experienced recent heartbreak and/or downsizing at their big-city, ambiguously titled but surprisingly well-paid marketing job.
8. All billionaires in Spirit Falls must be in a long-term committed relationship and/or talk about Bitcoin to the extent that precludes romantic interest in them.
9. Weddings in Spirit Falls may not include enemies in the opposing wedding parties, be catered by former best friends who kissed once and never talked about it again, or host entertainers who are attractive single parents nervous about getting back on the love market.
10. Bucket-list items are not allowed to be checked off within county limits. After recent public indecency charges at the fishing hole and broken arms at Spirit Falls, "dares" and "bets" will be considered on a case-by-case basis and may be discussed with our risk ombudsman between 10 a.m. and 5 p.m., Monday through Thursday.
11. Our town hospital (which is well-appointed and provides a confounding range of services for a community with a population of 7,500) will have medical practitioners who are, at best, a six.
12. All snow removal will occur promptly within the municipal area, specifically the roads to and from the Spirit Falls Cabin Resort.
13. Coincidences will be fined. The town council is free to determine what includes a coincidence, up to and including running into a best friend's little sister while jogging, crashing one's car into the fence of a childhood crush's new home, and seeing your work rival while checking out embarrassing personal items at the town grocery store.
Failure to comply with any Spirit Falls ordinances will be strictly prosecuted by our town attorney, Chet Anderson, an attractive but irritable recent widower with rumored ties to a small European nation's throne.
- - -
Head over to our Patreon page to read an interview with Rachel Mans McKenny about writing this piece.