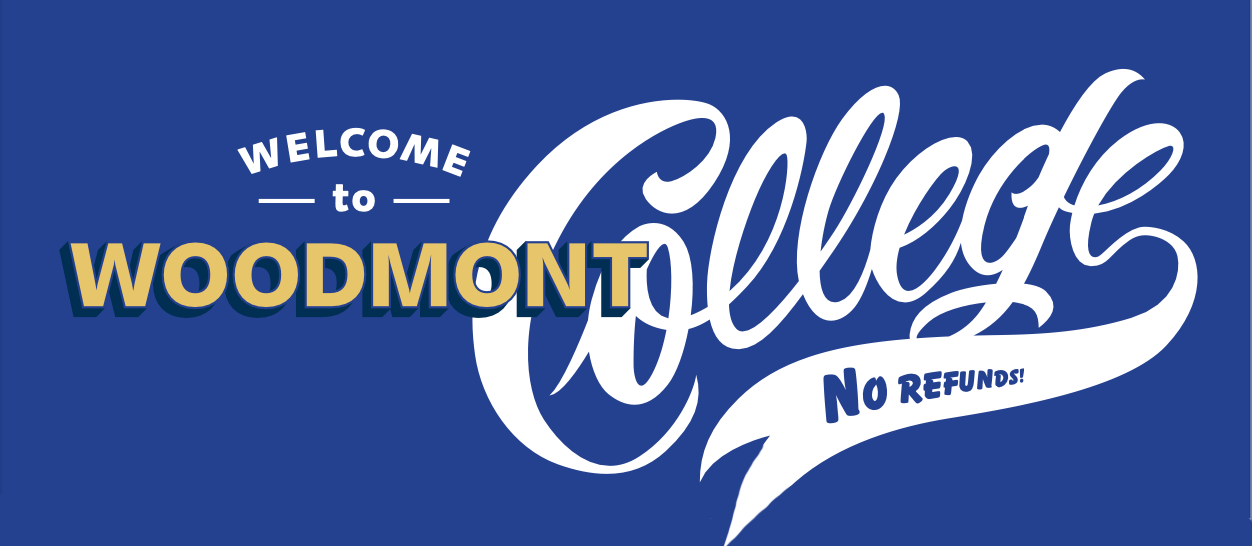 It's a ritual as time-honored among teenagers as prom or ​drinking too much and​ crashing your parents' ​Corolla into the window of a Mexican restaurant—glossy catalogs from colleges arriving by the dozen each spring. Aside from the faint odor of kiwi bubblegum vape smoke, Woodmont College's catalog, Welcome to Woodmont, is superficially not unlike the others. But there's no school quite like Woodmont College (no longer "university" due to a court order). And every page of its catalog is proof of this uniqueness, whether it's ​t​outing the college's low rate of scorpion infestation or celebrating its faculty's various facial tattoos. The best part? You can order your own copy of Welcome to Woodmont and learn for yourself why U.S. News and World Report has hailed the school as "a singular educational experience for young people searching for neglect of the arts and aggression by townies."
Comedy writers Mike Sacks and Jason Roeder are your guides to Woodmont College—its missteps, its glories, its unsupervised quicksand pits—and we'll be sharing bonus content from this e-book all week long to help herald its publication.
- - -
Commencement is a special time of year at Woodmont College. It's when we proudly confer diplomas upon graduating students and underclassmen we've just grown weary of having on campus. It's a day of pageantry—students in caps and gowns, faculty holding at least a paper plate in front of their genitals—and goodbyes. Goodbyes to friends, mentors, and an institution that has been a home for the past four to twenty-four years.1
If you're attending commencement 2022 this year, you'll find the most commonly asked questions addressed below.
Where and when is the ceremony?
Commencement will be held at Woodmont Field, just steps from where our demoralized lacrosse team buried themselves alive last season at halftime. Family and friends are welcome to sit in the bleachers on a first-come, first-served basis, though due to safety concerns with the aging structures, seating will be restricted to persons under thirty pounds.
The specific date remains undetermined. Visitors are advised to secure lodging adjacent to campus for six full weeks in early May and to await a phone call or hand signal.
Who will the speakers be?
Esteemed Donor Edward Gurd, CEO of Spore Capital: As is tradition, Woodmont honors its most generous benefactor with a keynote address. Gurd, a self-described take-no-prisoners libertarian who singlehandedly funded the reupholstering of several seats in our business school's auditorium, will be allowed to say anything he wants for as long as he wants.
Woodmont Chancellor TBD: We are currently conducting a search for a new chancellor to succeed Dr. Victor Moya, who resigned after admitting to plagiarizing much of his prior academic research from Bristol Palin's memoir. In the event the Board of Trustees has not appointed a new chancellor by Commencement Day, Executive Vice President Olivia Wofford will fill in and explore what she wished she knew when she picked out a divorce attorney.
Student Speaker, Brooke Glickson '22: Valedictorian Glickson will look back on her time at Woodmont and discuss how it shaped her decision to drop out of society the moment commencement ends.
Honorary Degree Recipient, Manscaped Brand Ambassador Troy Riggs: Will hype the newly released "Ball Mower."
What is the plan for inclement weather?
Springtime weather at Woodmont can be unpredictable, owing to the unique microclimate created by exhaust from the smokestacks at the Department of Journalism and Experimental Plastic Fabrication. The rain or snow at Woodmont is sufficiently corrosive to make indoor contingency plans beside the point. Join us in collectively praying for sunshine.
How do I know whether I'm eligible to graduate?
Visit the Registrar's Office to check the status of your credits. If you lack sufficient credits, you may still graduate by guessing the exact weight of the giant pumpkin located on the former site of the Campus Security kiosk. (Pumpkins are swapped out on the hour to help safeguard the contest's integrity.)
What is the $2,500 tassel fee?
Often cherished as keepsakes, our tassels are a genuine rayon-polyester blend and come with a commemorative plastic charm featuring all four digits of the year "2022." The tassels are optional, however. Students who elect not to purchase one will still be provided with a quarter-inch of yarn, which must be returned along with a $50 cleaning fee once commencement festivities conclude.
Why am I signing this waiver?
Because you're going to be a star in our upcoming reality AMC series Naked Graduation Island! Put your mind to rest—this show will be produced by the very same alumnus (Woodmont '86) responsible for the 2019 mega-hit HBO series Naked Assisted Living!
1 After twenty-four years, students are automatically graduated with a special "QUARTER-LIFE LEARNER" diploma, recognizing sheer collegiate perseverance.
- - -