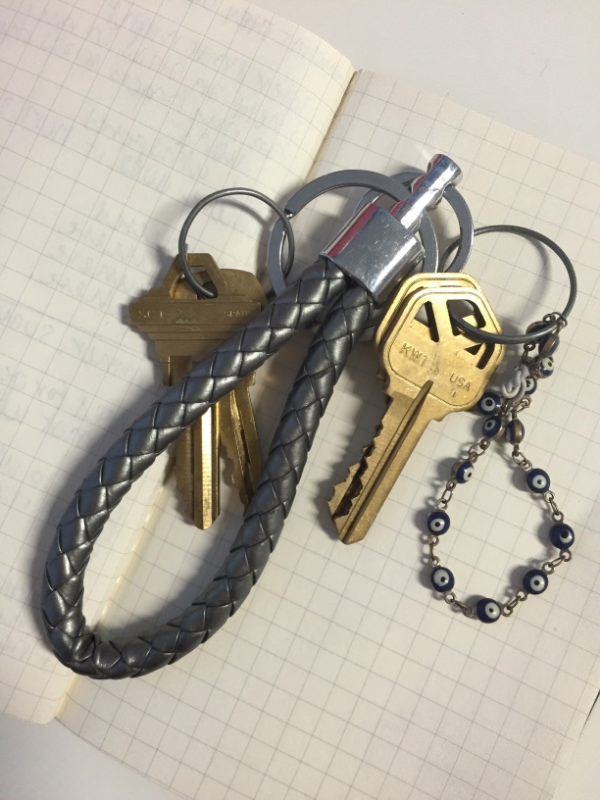 - - -
I'm not sure which airport in which European country this bracelet came from. But when my dad returned from one of his many business trips, he tossed one to me and one to my sister. Originally, it was made up of tiny evil eye beads, popular in Middle Eastern cultures and famed to ward off evil omens and bad spirits, with a small hamsa hand in the center, although that soon fell off. It wouldn't fit around my abnormally large wrist, but I had just received my driver's license, so I hung it around the rearview mirror of my car, which is where it stayed as I finished high school and drove off to college.
Four years later I graduated, almost immediately trading in the suburbs and my car for a new job in a big city. I cleaned out my room, my car, my things, deciding what I wanted to take with me for this new journey and what I could leave behind. Acquaintances, some old friends and flames, and a pair of ratty sneakers got the boot, but the bracelet-turned-car-decoration made the cut.
But where to put it? What did I always have on my person, so as to utilize the bracelet's supposed anti-evil properties?
Ah. I know.
So that's how it found its way onto my key ring. For about a year now it has bounced around this new city in my purse, pocket, gym bag, and between my fingers. Given my track record of losing car keys, IDs, the occasional phone, and maybe a purse, the fact that I haven't yet lost my bracelet-enhanced keys is probably a sign that the evil eye beads have warded off something, whether it be clumsy hands, subway grates, or just a foggy memory.