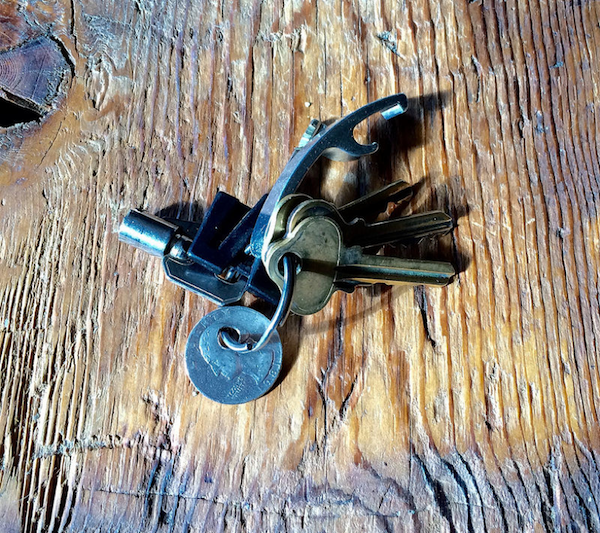 - - -
On Oct. 31, 1987, some friends and I attended the annual Halloween Parade in Greenwich Village. Someone in the parade was handing out tiny zip-lock baggies, each of which contained a quarter and a slip of paper that read, "In case of emergency, call this number," and then it gave the phone number for a hotline for runaway kids. (Cell phones didn't yet exist and pay phones were still common, so the quarter was to make the phone call.)
As it happened, the quarter in my baggie had a little hole drilled in it, right through George Washington's head. I put it on my key ring, thinking it would truly become my "emergency quarter" — the coin I would use when I was literally down to my last 25 cents. Nearly three decades later, that quarter has been around the world with me, and it's still on my key ring. I like that. It's dated 1981, which means it was circulating for six years before it got to me. It has now spent nearly five times that long on my key ring.
Because of the little divot that's been taken out of it, it no longer weighs as much as a regular quarter, so I'm not sure it would even work in a pay phone or other coin-operated vending machines. I actually have some vintage coin-operated gadgets in my apartment, so I suppose I could put the quarter in one of those to see if it works, but I'd rather not know. Sometimes the question is more interesting than the answer.
- - -
Submit your key ring chronicle here.