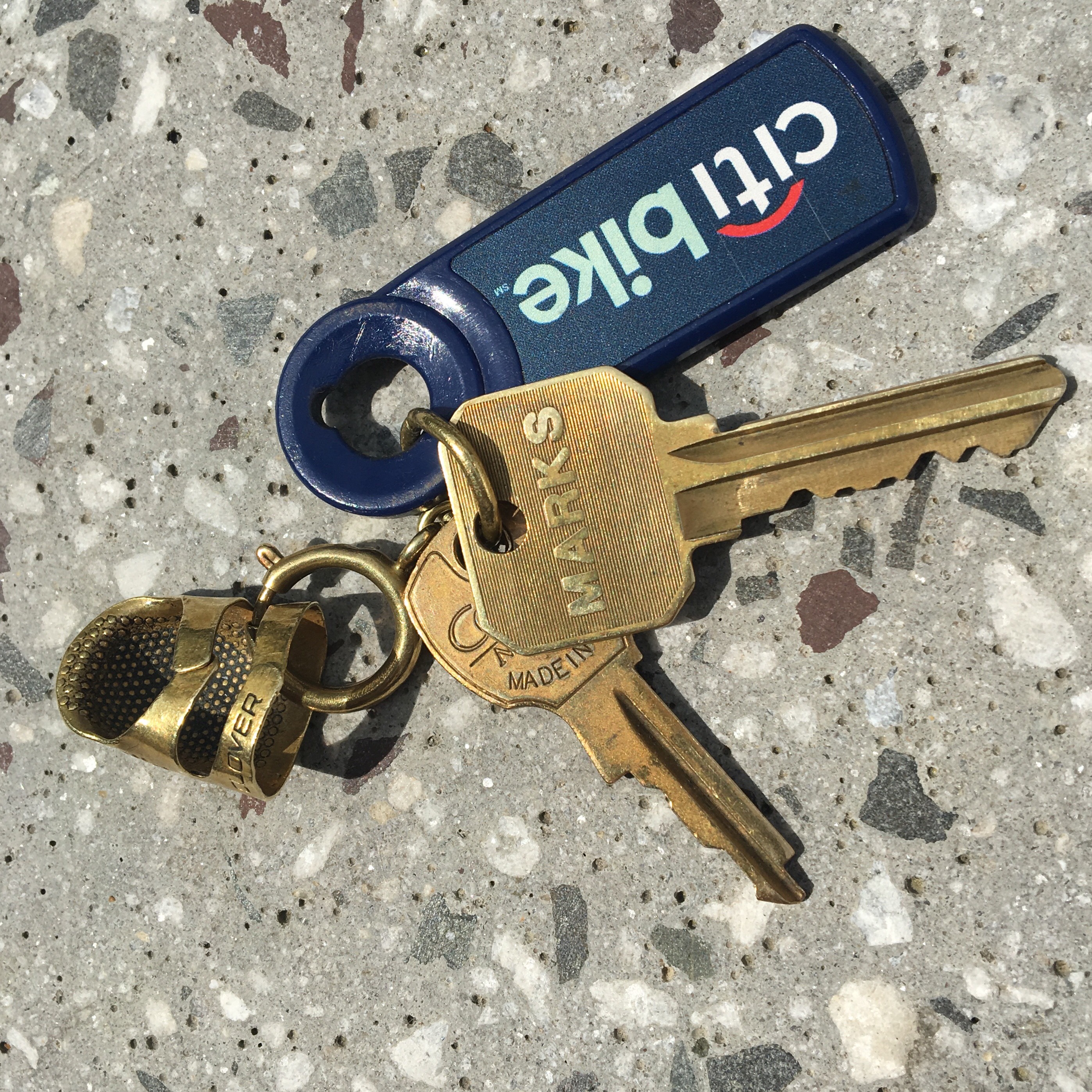 - - -
I love things that suggest industrial marvels from the early 20th century. This brass thimble that I keep on my key ring has that sense of factory-driven chic, but it's also practical. It's been in my sewing life for the last three years or so. It was originally "antiqued" to the color of the Liberty Bell, but the outside has become polished with use to a shiny gold and the inside has oxidized from perspiration, so it turns my fingertip green if I wear it for an extended period of time.
I began using this type of thimble in 2014, when I started working on Broadway in the New York wardrobe workers' union. We dress actors backstage and fix their costumes when they begin to fall apart. In the theatre, you can't predict when you'll need to sew through dense materials, so it's wise to have a thimble at the ready. I originally kept this one on a necklace but moved it to my key ring after deciding that jewelry is for when the mood strikes but keys are for every day.
This is perhaps the third such thimble I've purchased. They're easy to lose, so it's good to have backups, especially if you don't have a specific place to put them when you're done sewing (hence the key ring placement). Mine is so comfortable that I sometimes forget to take it off. Long after a shift has ended, I'll often discover it's still there on my middle finger. Once I realize this, I put it back on my key ring, and it reminds me of other things I don't want to lose.
- - -
Key Ring Chronicles is a crowd-sourced project that explores the stories behind objects that people keep on their key rings. It was created and is overseen by Paul Lukas, who has kept a quarter with a hole drilled through it on his own key ring since 1987. Readers are encouraged to participate by sending photos and descriptions here.