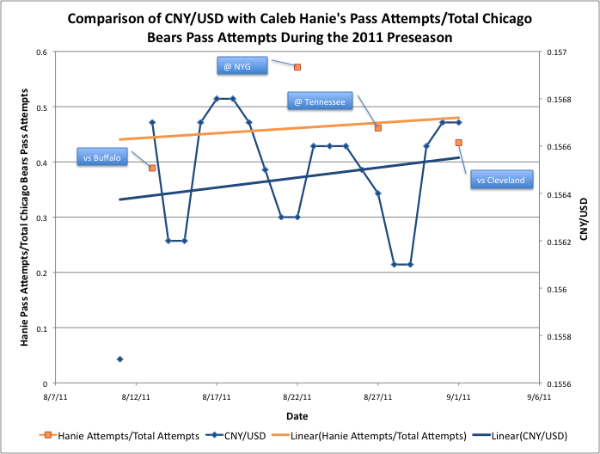 It's not a fun topic if you're the United States. It's certainly not a fun topic if you're China. And I have to imagine that if you're Chicago Bears head coach Lovie Smith, you're not too thrilled about it either. However, as uncomfortable as it may be to discuss, the fact remains that the first step towards ending China's destructive currency manipulation is to give Caleb Hanie more pass attempts per game relative to other Bears quarterbacks.
Yes, that means relative to Jay Cutler.
Look, I know I sound like yet another Cutler-hater. I'm not. That said, the data is unequivocally clear that as goes backup quarterback Caleb Hanie's relative number of pass attempts, so goes the relative strength of the Chinese yuan compared to the U.S. dollar. This is precisely what the U.S. and world economy needs: higher demand for imports from countries that aren't China and a quarterback who can operate in Mike Martz's pass-heavy, high-stakes offense.
The chart above clearly indicates that, during the 2011 NFL preseason, as Hanie's relative number of pass attempts trended upwards, so did the strength of China's currency. While the game against the New York Giants was not a great effort for Chicago (ending in a 13-41 blowout loss), Hanie's 28 pass attempts clearly spurred a .19% jump in the CNY/USD. Not only that, but Hanie's experience allowed him to finish the preseason with a quarterback rating of 128 in the final game against the Cleveland Browns.
Now, if that's not a win-win, I don't know what is.
With all that's going on in the world, it's reasonable to wonder why such a topic even matters. Yes, the deficit, health care reform, and the NBA lockout are all vitally important issues. But, like it or not, this Cutler/Hanie debate may very well be more impactful on the U.S.-economy/post-season than tax cuts, another stimulus, and a more productive running game—combined.
If you're still not convinced that Hanie's clearly competent pocket passing needs to see more game time, then consider the opinion of economist and New York Times columnist, Paul Krugman: "China's policy of keeping its currency, the renminbi, undervalued has become a significant drag on global economic recovery. Something must be done."
Indeed, something must be done, and the data is unambiguous as to what that something is. So why won't President Obama, any mainstream GOP Presidential candidate, or Lovie Smith even mention a strategy that involves little more than a simple depth chart adjustment?
The answer is that they're afraid. Afraid that if the renminbi doesn't appreciate quickly enough, they'll be open to criticism. Afraid that if Hanie has a rough start to the year, voters/fans will consider the maneuver a failure.
Now is not the time to let fear dictate policy. Now is the time to stand up, look China in the eye, and say, "We're benching Cutler."
As the Presidential race heats up for what will undoubtedly be another intense election cycle, you can be sure that none of the candidates will publicly support such a politically risky policy position. Yet, you can be just as sure that both American policy towards China and consistent quarterback play will continue to be a large part of the foreign policy and long term offensive personnel discussion.
The only question worth asking is this: Will our leaders ever have the courage to put forth a strategy that includes more snaps for Caleb Hanie, or will the United States allow China to impede our economic recovery/playoff opportunities?
- - -
Sources:
"Historical Exchange Rates." Oanda, n.d. Web. 14 Sep 2011.
Krugman, Paul. "Taking On China." New York Times, 14 March 2010. Web. 14 Sep 2011.
"Chicago Bears Stats at NFL.com." National Football League, n.d. Web. 14 Sep 2011.