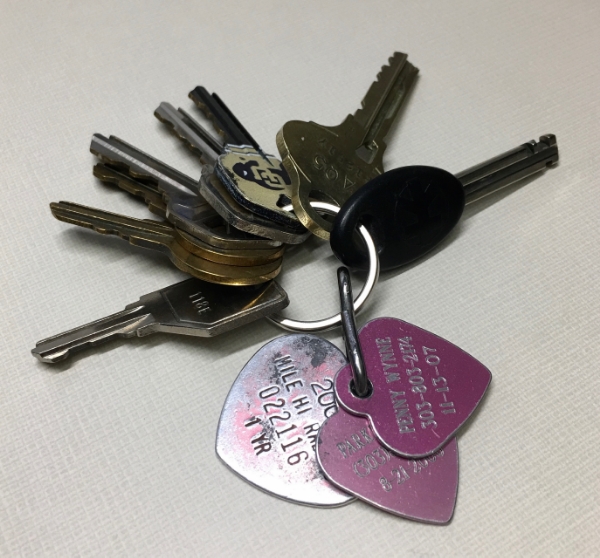 - - -
Sometime in 1992, my family obtained a hearing dog, intended to help out my sister, who is hearing-impaired. Scrambler was very helpful in that role, but she was also such a rambunctious, silly, and loving dog that she simply became the family pet.
By the spring of 2005, Scrambler's kidneys were failing. She no longer had the energy and quality of life she had as we grew up, and it was time to have her put down. My mother took her to the vet to do what had to be done and returned home with Scrambler's collar and tag. Extremely sad, I removed the tag from the collar and put it on my key ring.
A few years later, in 2008, my then-wife and I had a puppy with a demeanor very similar to Scrambler's. Unfortunately, Penny Wynne got herself into trouble in the backyard and ingested something she shouldn't have. The vet said nothing could be done, and soon she was gone. I added her tag to my key ring.
The third tag on my key chain is for my dog Parker Jayne, who came to us a year before Penny and is still with us today. She and Penny were best buds. After Penny's death, I removed Parker's tag (I replaced it with a duplicate) and added it my key ring, where all three have remained. So the tags don't just represent death — they also represent life, and my own life has been enhanced by my connection to these wonderful pets.
- - -
Key Ring Chronicles is a crowd-sourced project that explores the stories behind objects that people keep on their key rings. It was created and is overseen by Paul Lukas, who has kept a quarter with a hole drilled through it on his own key ring since 1987. Readers are encouraged to participate by sending photos and descriptions here.