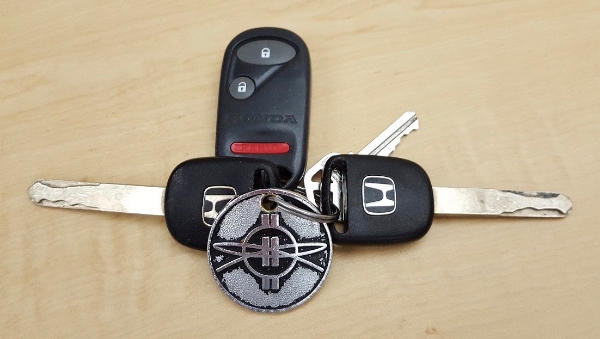 - - -
I'm a drummer. I became friends with Ronn Dunnett in 1998 via a now-defunct online drum forum and met him in person at a drum show in fall of 2000. Ronn began building drums in the late 1980s out of frustration with mass-produced instruments available at the time. He's a rare blend of artist and engineer, and his products show it.
My personal and professional relationship with Ronn has deepened over the years. He's built custom drums for me, I've worked at trade shows for him, we've hosted "drum nights" with over 50 fellow drummers, we've snuck into big-time corporate shindigs we weren't invited to and generally caused a ruckus, and so on. Your basic partners-in-crime type of bond.
In 2005 Ronn had a few custom motorcycle jackets made as thank-you gifts for some of his more reliable associates, myself included. One unique feature was the zipper pull, which was based on his company's secondary logo. Mine eventually broke off, but I never wanted to lose it, so I attached it to my key ring. I love the way the black background has worn off to give it a heartier, more industrial look. Simple, classic, elegant, and very meaningful to me.
- - -
Key Ring Chronicles is a crowd-sourced project that explores the stories behind objects that people keep on their key rings. It was created and is overseen by Paul Lukas, who has kept a quarter with a hole drilled through it on his own key ring since 1987. Readers are encouraged to participate by sending photos and descriptions here.