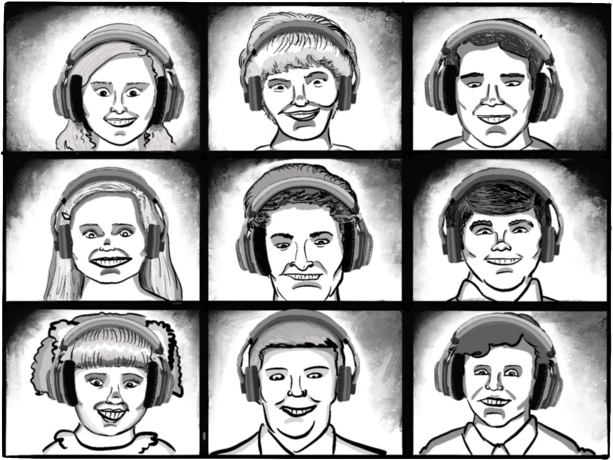 Illustrated by Katy Fishell
- - -
The Brady Bunch
The original Zoom chat. Everyone has their own square, glancing around at others with a smile, mostly looking at themselves. Ahead of its time, The Brady Bunch intro is a quarantime spectacular.
The Golden Girls
Hugging in the theme song is totally fine because they've moved in together and have no visitors. The updated intro is safe and promotes the right message about this vulnerable age bracket.
The Fresh Prince of Bel Air
West Philadelphia born and raised, a playground is not where Will spends his days because he is homeschooled. He never gets into one little fight, so he never moves to Bel-Air. In the pre-video chat era, his extended family has no place in the theme song, nor his life.
Sesame Street
This new opening skips the densely-populated urban street and instead shows the characters providing directions on how to get to more rural locations, so as to spread out the puppets and flatten the curve. Cuomo approves.
Mister Rogers' Neighborhood
A singing Mr. Rogers disinfects his shoes, washes his hands for 20 seconds, and warns us to always avoid our neighbors — they might be asymptomatic carriers.
Friends
Six friends splashing around in a fountain in the West Village was charming in the '90s, but now we know this is a public health risk. The new version shows the friends laughing and crying on a dysfunctional Skype call (they're still behind the times). One thing we can all agree on, though: no one told us life was gonna be this way.
Freaks & Geeks
It's school picture day — we see only selfies submitted from home, as the students fall further and further behind grade level.
The Sopranos
Driving from NYC to NJ? Not under quarantine, unless organizing mob activities counts as "essential travel." Instead, "Woke Up This Morning" plays as Tony slowly googles "online therapy sessions."
Unbreakable Kimmy Schmidt
The four women are rescued from the bunker they've been living in for 15 years, only to get sent back into the bunker for an indefinite amount of time.
Orange is the New Black
Up-close shots show the dread in inmates' eyes as they realize they won't be let out of prison. Let them out — empathy and social-distancing is the new orange!!
Sex and the City
A bus splashes water on Carrie, but who cares; she wasn't wearing makeup anyway. Just the fact that she got out of bed is impressive. Wait, why did she get out of bed? Socially distance yourself, Carrie!
Scrubs
They walk around the hospital without masks on?!! Are you kidding me!?! What is this, the present day?
The Office
Michael is in the fetal position the whole time. Everyone else is working from home, so we don't see them in the theme song.
The West Wing
No one gets out of bed.
Gossip Girl
Everyone is alone, crying.
Grey's Anatomy
Even Seattle's finest can't do anything. The theme song portrays the doctors having sex in their own apartments with their own spouses while patients are left untreated. This sucks.
The Big Bang Theory
Our whole universe was in a hot, dense state then nearly 14 billion years ago expansion started, wait. Math, science, history, unraveling the mysteries that led up to this tiny path-o-gen, shit!
Six Feet Under
This intro needs no updates. It consists of handwashing, features no two (living) people in a single shot, and fulfills the six-feet-apart CDC guidelines (granted the six feet are vertical, into the ground). The theme song for our modern age.