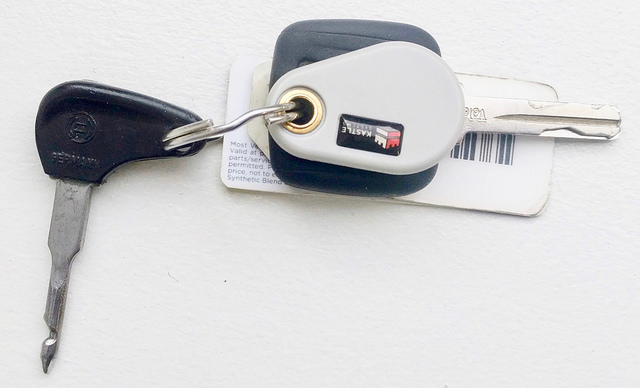 - - -
My key ring carries a key I've had since 1987, even though I can't use it. It's the ignition key to a Mercedes 309 Diesel bus — specifically, a Georgetown University Transportation Society bus, commonly known as a GUTS bus.
GUTS buses transport students and staff from the surrounding community to the main campus and between the main campus and the law school campus on Capitol Hill. I drove one to earn beer money during my last three years at school in the mid-1980s, earning $4.50 an hour. Each bus seated about 20 passengers, although I once packed 37 people in a bus during morning rush hour when the preceding bus had broken down.
Remarkably, all the drivers were students. Looking back, it seems irresponsible to have let teen-agers drive large motor vehicles through the narrow, cobblestoned streets of Georgetown. The GUTS program still exists, but sometime around 1990 the university phased out the Mercedes 309s for full-sized buses and brought in professional drivers.
Unlike most vehicle keys, the GUTS bus keys weren't elaborately machined and were interchangeable among the buses, so I didn't feel too guilty about pocketing one after driving my last route shortly before graduation. It sat in a junk drawer for a long time until I put it on my key ring about five years ago. It has been with me since then and was the one thing I was upset about losing when I mistakenly thought my keys and wallet had been stolen.
- - -
Key Ring Chronicles is a crowd-sourced project that explores the stories behind objects that people keep on their key rings. It was created and is overseen by Paul Lukas, who has kept a quarter with a hole drilled through it on his own key ring since 1987. Readers are encouraged to participate by sending photos and descriptions here.