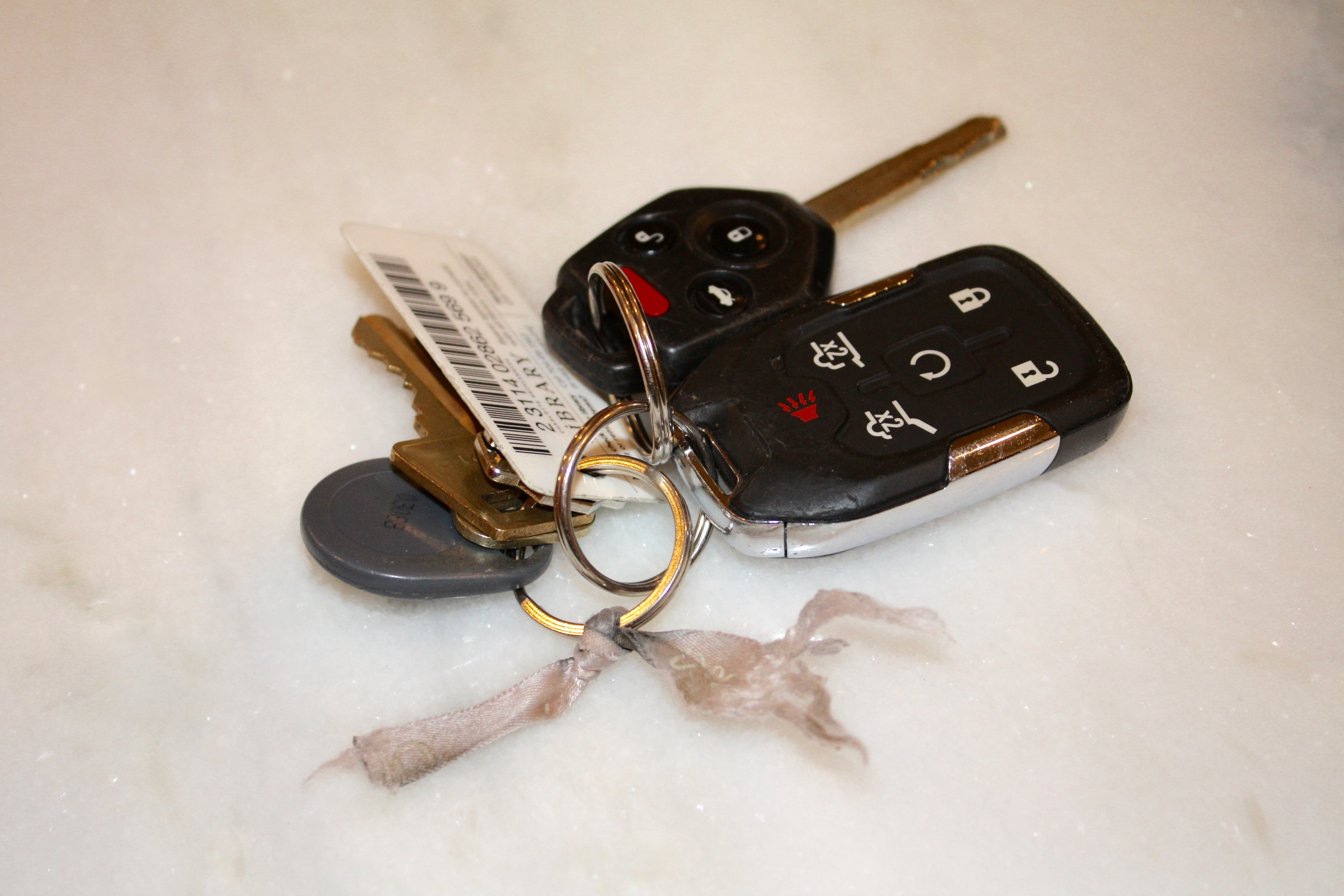 - - -
Shortly after my husband and I moved to Charlotte from Chicago, I made a trip back to Illinois to help my dad go through my mom's things. In the basement, I found a bag of her old sewing supplies: a half-finished Christmas stocking, a tomato-shaped pin cushion, a tape measure, pinking shears, and reams upon reams of ribbon.
Looking through the bag, I pictured my mom at her sewing table in the family room. She made doll clothes and kitchen curtains while my sister and I watched TV on our bellies. I can still hear the whir of pulled thread and the hum of the pedal-operated motor. We knew when she was at work on something important by the way she pressed a straight pin between her lips.
I clipped a section of light pink ribbon from my mom's sewing bag and tied it to my key ring. Pink because I was pregnant with a little girl — a little girl my mom would never meet. A little girl my mom would probably remind, if she could, as she had reminded me for 34 years, to breathe.
For years, I grabbed my keys, saw the ribbon, and took a conscious breath. It's an odd thing, to voluntarily cue grief. Did I really need a reminder that my mom was gone?
But in time, the ribbon started to do its real job: It reminded me that actually, I had never lost her. She's in these hands sticking out of my sleeves that are learning their way around a needle and thread. She's in the laughter that comes from my daughter, who's now six. She's even there at her sewing table — now in my dining room — nudging me to breathe on my way out the door.
- - -
Key Ring Chronicles is a crowd-sourced project that explores the stories behind objects that people keep on their key rings. It was created and is overseen by Paul Lukas, who has kept a quarter with a hole drilled through it on his own key ring since 1987. Readers are encouraged to participate by sending photos and descriptions here.