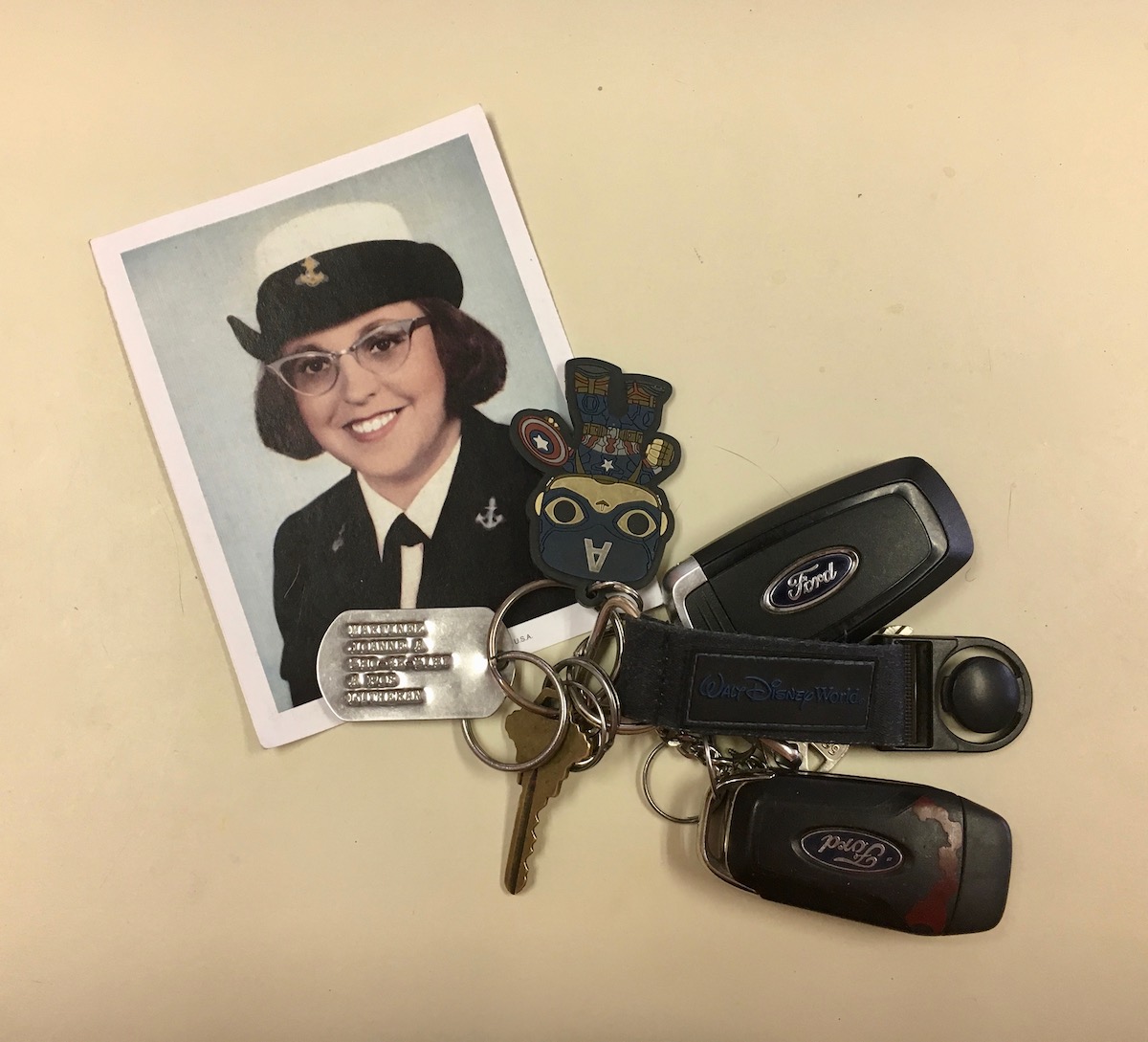 - - -
In 1988, my mother had been in the United States Navy for nearly 19 years and was serving what would be her final tour of duty at Naval Air Station Barbers Point in Hawaii, where she maintained aviation maintenance records. Base security was increased that year, leading to a shortage of gate guards, with the units on the base expected to supply more personnel to pick up the slack. Mom was assigned for the job, and as a result was issued her first and only set of BDU fatigues, along with her first and only dog tag.
The security increase meant there would always be two guards at the gate — one regular and one of the new assignees. But the gate was equipped with only one gun, an M16 rifle, which was kept in a locked case. The regular guard had the only key to that case, and also had the gun's ammunition. In case the regular guard went down, the newly assigned guard — my mother — was under standing orders to retrieve both the key and the ammo from the incapacitated guard, unlock the case, retrieve the M16, load it, and return fire. Aside from the logistical challenges this would pose for the main guard's inexperienced partner, my mom was 5'2", and when she practiced with an M16 at the range she came home badly bruised from the recoil due to the gun's stock being designed for use by a six-foot man. So even if she was able to get to the gun, there was no way she'd be able to use it effectively. Fortunately, that type of situation never came up.
Mom was on guard duty for only six months, after which she went back to her regular job. She retired the following year and we moved to her home state of Michigan. She eventually became the first female commander of her local VFW post, where she met her second husband, and then they moved to Arizona, where she spent the rest of her life. Meanwhile, the dog tag disappeared into the big collections of random stuff we had gathered during my mom's Navy career, and I kind of forgot about it.
Mom passed away shortly before her 70th birthday in 2015. As I was attending to her effects with the help of a cousin and a neighbor, I happened upon the dog tag. To make sure I didn't lose it again, I put it on my key ring. I keep it as a reminder of Mom's good humor, her service, and the life we had as a nomadic military household.
- - -
Key Ring Chronicles is a crowd-sourced project that explores the stories behind objects that people keep on their key rings. It was created and is overseen by Paul Lukas, who has kept a quarter with a hole drilled through it on his own key ring since 1987. Readers are encouraged to participate by sending photos and descriptions here.