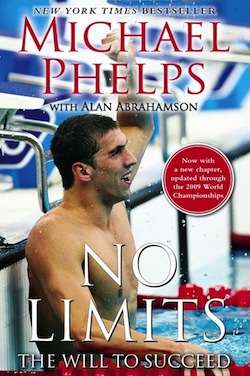 Under Review:
No Limits: The Will to Succeed
by Michael Phelps with Alan Abrahamson
(Free Press, 2008; 228 pages)
- - -
As with many literary works, the opening passage of swimmer Michael Phelps' memoir, No Limits: The Will to Succeed, can be significantly spiced up with a few choice insertions of the phrase "in bed":
I screamed. You bet I did. I mean, in bed, I totally let loose. I clenched my fist and arched my back and screamed and howled and yelled.
And it felt so good. So very good.
No, it felt great.
Better, maybe. It was primal. It was as good as it gets in bed.
I let it all out: joy, relief, excitement, passion, and pride, especially pride in being an American.
Although No Limits might have sold significantly more copies if it began with this version of the opening and went from there, in the original, Michael Phelps is describing his experience standing poolside at the 2008 Beijing Olympics and watching his fellow American swimmer Jason Lezak come from behind and win the 4×100 freestyle relay.
Phelps was so excited to see Lezak win because Lezak's victory earned Phelps a gold medal. If Lezak—who was Phelps' direct competitor 90% of the time—did not make it to the wall first, Phelps would not have won a gold medal and would not have gone on to win his record-breaking eight gold medals in a single Olympics, making him the "greatest Olympian of all time."
But swimming has so many podium ceremonies it probably devalues the market price of those three most precious metals. Consider: if all you did in the Olympics was the backstroke, you'd be a candidate for three different medals (100-meter backstroke, 200-meter backstroke, 4×100 medley relay). If you were an Olympian and you competed in the decathlon—which requires the mastery of ten different sports—you are eligible for one medal. In basketball, which requires medaling teams to play eight forty-minute tournament games, or handball, with eight sixty-minute games, you are also eligible for one medal. It's easy to make the case for Phelps being the best swimmer of all-time. But identifying the best Olympian ever requires conversions between metrics that don't even exist.
Saying these things about Phelps is to drop a turd into the narrative punchbowl, the heartwarming story of the nice young man who went out and made America proud. Think about Phelps for very long and you'll also conjure Bob Costas in his hearth-warmed studio tossing to a sepia-toned featurette, or welcoming in the next freshly scrubbed, sweat-suited American gold medalist for three smiley minutes of interview. Phelps—way more than any other athlete—had his career defined by NBC's star-spangled coverage.
In No Limits Phelps recalls his experience at the end of the Beijing Games of being invited into the private office of NBC executive Dick Ebersol so the two men could re-watch the eight great races on Ebersol's spread of personal monitors. This is not what victorious athletes do. This is what actors do after it's a wrap on set, reviewing footage with their director and figuring out which take has the emotional punch to carry the orchestral groundswell from the soundtrack. The night after Phelps beat Serbian Milorad Čavić by .01 seconds—literally a fingertip—in the 100-meter butterfly, Ebersol & Co. probably had wet dreams in their hotel rooms, visions of Nielsen charts dancing in their heads.
Before reading No Limits my heart had its strings tugged by those frequent broadcast cutaways to Bob Bowman, Karl Rove's body double, and Phelps' first and only swimming coach, or mother Debbie, the omnipresent bleacher presence tear-streaked after Michael's latest victory. Bob and Debbie always looked to me like the fun-loving type of youth sports coaches who welcome the whole sweaty team piling into their minivan on the way to the pizza party, perhaps even allowing young Michael that extra slice so he can just be one o' the boys. No Limits testifies that there are hearts of iron at the center of all those weepy post-race hugs. Here is a short tale that Michael shares about his mother:
One winter day when I was in high school, it snowed. I suddenly wanted to go sledding. Mom said, oh, are you going to go to the world championships this summer or are you going to break your arm now?
That's enough passive aggressiveness for multiple sessions in the family therapy room.
Michael shares another story (by the way, he is on good terms with Bob and Debbie and is not sharing these stories as part of some name-dropping tell-all deal, so who knows why he felt compelled to share these rather unflattering moments) about a meeting they had at 5:30 one morning when Michael was twelve, the day after Michael had been disobedient in practice:
I showed up with a baseball hat on my head. Bob made me take it off. Mom and I sat down on two of the chairs, Bob grabbed a third. And in came my father, a Maryland state trooper, in full uniform. My eyes got wide. At that point, my father was still much more involved in my life; even so, for him to show up like that, at that hour of the morning, meant this was no-doubt-about-it serious.
Bob said, Michael, there's a triangle here. There's your dad. Your mom. Me. Guess who's in the middle?
Me, I said, very softly.
That's right, he said. You've got nowhere to run, nowhere to hide. You have to do what we want you to do.
!!!
Now is a good time to bring up Michael Phelps's guiding mental philosophy, seeing as it has probably been shouted at him hundreds of times by Bob and/or Debbie since before Michael even had to shave his body hair for races: If you dream it, and work hard, you can do it, no matter what.
No really, that's pretty much the extent of it. In Michael's own words:
If you put a limit on anything, you put a limit on how far you can go. I don't think anything is too high. The more you use your imagination, the faster you go. If you think about doing the unthinkable in bed, you can. The sky is the limit.
Even though this life philosophy is, well, crazy, it at least makes sense why Phelps would express this belief. No Limits was published in 2008 and mostly discusses Phelps' performance in the Olympics in August of that year. Somehow, in the four-month span after the Olympics, Phelps spun his yarns for ghostwriter Alan Abrahamson, Abrahamson hammered the thing out, and the book was sent to print. Phelps must have still been dripping dry from his last victorious race when they got started.
Pre-medals, Michael's actual guiding philosophy had always been to do what Bob and Debbie declared from on high. And so in that immediate afterglow of global swimming domination, when asked to share the reasons for his success, Michael had nothing else to stand on other than this hollow stack of clichés.
Plenty of other anecdotes in the book directly undercut the starry-eyed thesis of No Limits. Late in 2007, Michael slipped in an icy parking lot outside a Buffalo Wild Wings ("one of those restaurants with a sports theme") and broke his wrist, a setback that could have seriously jeopardized his training schedule, and his Beijing dreams. Thankfully, the injury was not more serious because the parking lot of a Buffalo Wild Wings is just about the saddest possible place for a premier athlete to meet their demise.
I guess Michael didn't consider the reality that, as he was suspended in midair over that hard, hard asphalt, he was completely helpless in the face of an unfolding universe. A little gust of wind here, an unseen splotch of black ice there, and it's say his ACL that gets shredded, and those eight medals go to someone not flat on his back in a parking lot. Phelps has always wanted to win swimming races very badly and he has worked very hard to do it. He doesn't win any races without this drive, but he didn't win the races just because he wanted it the most. It's also entirely necessary that his life be a blessed chain of advantageous circumstances, from the dimensions of his body—essentially ideal for swimming—to sustaining only minor injuries at Buffalo Wild Wings to growing up with an older sister who trained to swim in the Olympics.
The things that Michael shares about his sister Whitney are haunting in a very real way. This is why the world of Michael and Bob and Debbie gets pretty scary, because the stories about Whitney weren't intended to be haunting for the reader. Basically, in anticipation for the 1996 Olympic trials, Whitney, looking for every competitive advantage possible, figured that a skinnier swimmer goes faster through the water, so she just stopped eating. Here's how Phelps describes the situation, which is also the same way an android would describe it:
Not surprisingly, Whitney's training began to suffer. After long sessions in the water, she would turn blue. She got good at staying under the water until her color came back.
Whitney came into the 1996 Trials, held in Indianapolis, with the best time in the nation in the 200 fly, 2:11.04. She finished sixth [and out of Olympic qualification].
Oh, and Whitney also had severe back pain since the age of ten. Ten! At the risk of playing doctor, swimming is a non-contact sport—what other explanation could there be for her pain other than an overloaded training schedule, supervised by Debbie? All of these events took place before Bob and Debbie sprung their terrifying intervention upon 12-year-old Michael. It's tragic but not surprising that Michael began to deal with his own back pain after the 2004 Athens Olympics, at age 19.
The fact that Michael not just survived but thrived in this type of unforgiving psychological environment is a testament to his outrageous mental strength and composure. Fortuitous life circumstances aside, Phelps's Herculean self-talk is the true secret to his success, although he doesn't quite seem to realize it, and certainly couldn't teach it to the rest of us:
I get asked all the time what I think about when I'm up on the blocks, in the instant before the starter says, take your marks.
Nothing.
There's nothing I can change, nothing I can do to get faster. I've done all the training. All I can do is listen for the beep, dive in the water, and swim.
Even if I were born with the same Platonic ideal of a body like Phelps, received all the same world-class training and equipment, there's no way that I could bring my mind to this state of complete oneness, especially considering the task at hand and the complete acceptance of the world as it is. There's no way that I could ever reach a state of such tranquility in the broiling crucible of these competitions, where the fractions of seconds don't just matter but they are the only thing that matters. From my perspective, Michael Phelps might as well have a superpower.
But you know what? If having all these abilities means growing up with people like Bob and Debbie, Phelps can have it. I'm good.