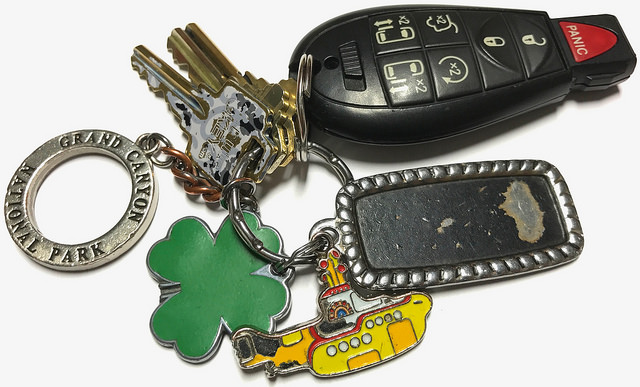 - - -
When I was a teenager I wanted to get my driver's license as soon as possible. The moment I could sign up for driver's ed, I did. On my 16th birthday, I had my mother pick me up from high school and drive me straight to the DMV. I knew I was not going to have my own car, but a few days later, my parents gave me a small box that contained a key ring. It included a metal tag with a sticker of a soccer player (I played in high school) and my own key to our family's second car. The sticker fell off a long time ago, but I've kept the metal tag, even though it's now blank. I've had it for 19 years.
Later that summer we took a family road trip from Chicago to the Grand Canyon, camping the whole way. We had a great time, and I wanted to add to my key ring collection, so I bought a small souvenir from Grand Canyon National Park. It originally had a smaller circular piece that spun within the larger one. That piece broke off, but I kept the outer piece.
Years later, my wife started to take up running, and sometimes I joined her on my bike as she ran around the neighborhood. Her first big race was the Shamrock Shuffle 8K. The day before the race, we went to pick up her bib number and other items, including a shamrock key tag. The next day was miserable — snow, sleet, and bitter Chicago cold, a day when I wouldn't have even considered walking outside — but my wife went ahead and completed the race. I've kept the shamrock on my key ring to remind me how determined and strong she can be.
Lastly, there is the Yellow Submarine. I bought it five years ago during a layover at Heathrow Airport in London, in the midst of a period when I was traveling a lot for work. As a lifelong Beatles fan, I couldn't pass up this simple, whimsical symbol that reminds me of my favorite band.
Although I have four distinct special objects on my key ring — probably more than the average person — I'm actually very selective in my acquisitions and usually lean toward a minimalist approach in my life when I can. I don't think I'll be adding another object anytime soon.
- - -
Key Ring Chronicles is a crowd-sourced project that explores the stories behind objects that people keep on their key rings. It was created and is overseen by Paul Lukas, who has kept a quarter with a hole drilled through it on his own key ring since 1987. Readers are encouraged to participate by sending photos and descriptions here.