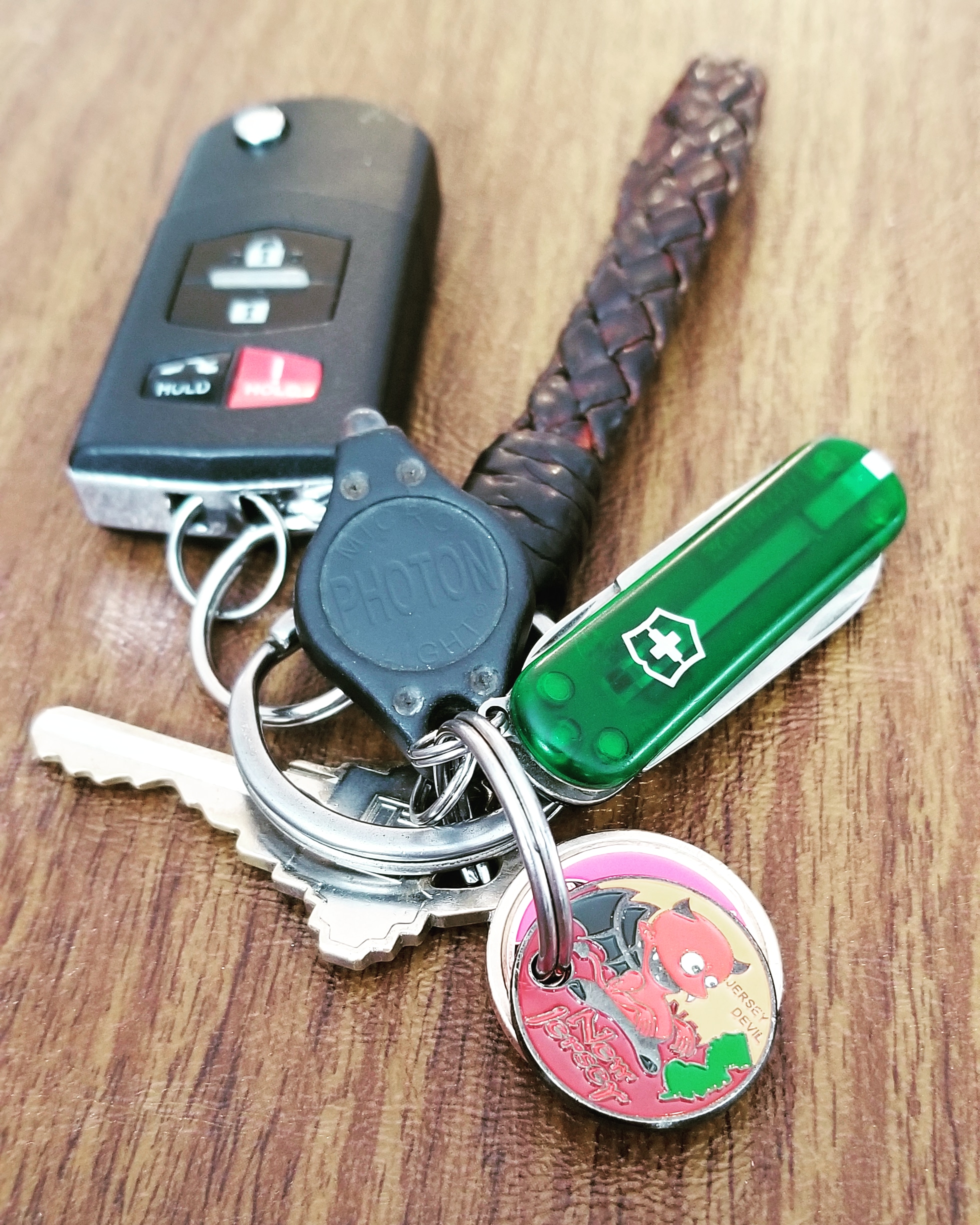 - - -
I have a number of interests in life. One is hiking in the woods. Another is visiting historic sites in my home state of New Jersey. Yet another is going geocaching, which involves using GPS coordinates to find hidden canisters. Once a geocache is found, you open the canister to sign a logbook inside and have the option of swapping a variety of items in the canister for one of your own. Then you go online and log your find on a website.
So one brisk fall day a few years ago, I was in the woods, ascending the steep slope of a hill. The hill's summit is a historically significant site, dating back to the Revolutionary War and George Washington's Continental Army. In addition, a relatively popular geocache lay hidden somewhere at the top.
After a bit of searching, I found an ammo can hidden beneath the hang of a small boulder and concealed with logs. Upon opening it, I signed the logbook then sifted through all the items inside available for trade. These items are typically nothing special, and I usually don't bother trading one of my signature items for any of them.
But this time I spied something that grabbed my interest. At the bottom of the can was a metal medallion known as a pathtag. These items can have any theme and have a serial number on the back, so they can be tracked online as geocachers pick them up and drop them off in different geocaches over time. This one was a colorful coin featuring a cartoonish rendering of the Jersey Devil, the legendary creature that's become an unofficial mascot of sorts for New Jersey. Obviously, I traded for this in a second — it was like this little coin had been made specifically for me.
Even better, pathtags usually come with a hole already punched in them, so they can be displayed on a pegboard or string. But, of course, they also fit perfectly on a key ring. So that's where this guy resides now — a small representation of my personal curiosities.
- - -
Key Ring Chronicles is a crowd-sourced project that explores the stories behind objects that people keep on their key rings. It was created and is overseen by Paul Lukas, who has kept a quarter with a hole drilled through it on his own key ring since 1987. Readers are encouraged to participate by sending photos and descriptions here.