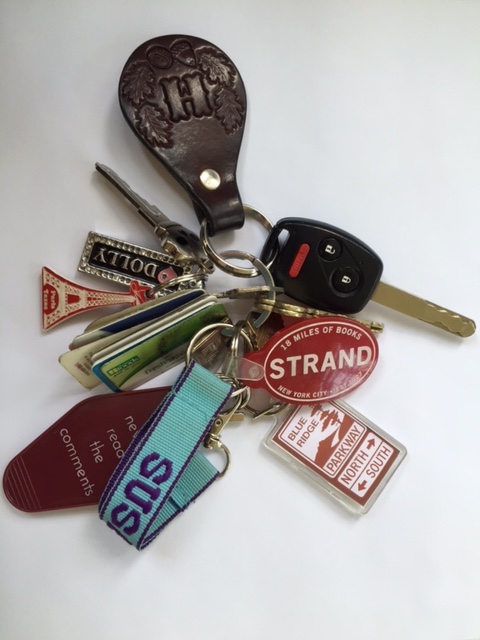 - - -
I'm always looking over the key rings at gas stations because I collect souvenirs. I also collect fridge magnets and snow globes. I never met a gift shop I didn't like. I have as many souvenirs as keys on my key ring, and most of them make me think of distant places, but my miniature Blue Ridge Parkway sign makes me think of home.
I bought it at a gas station in North Carolina, or maybe Virginia – I don't remember which – on one of my road trips. There are lots of entrances to the Parkway, and I live about an hour away from the one in Fancy Gap, Virginia, which is a funny name. There are cows around there and lots of antiques stores and green hills.
The miniature sign looks just like the real signs that run the length of the Parkway: a tree in the foreground with mountains in the distance and a road winding off around a corner, to a place you can't see. When you pull onto the Parkway, the signs direct you north or south. It doesn't really matter which direction you choose. You're driving to drive, not to go anywhere in particular. You're driving to see, not to see anything in particular.
I have lots of other souvenirs on my key ring, all jumbled together. Sometimes a key gets wedged in one of the rings, and it's tricky to dislodge, but I don't mind. I like the mess of it. Some of the other souvenirs remind me of past homes (a Strand bookstore key ring) or places I've visited (a metal "Dolly" tag from Dollywood). But the Parkway sign reminds me of driving with my dog through the mountains. There are scenic overlooks along the way, so sometimes I'll pull over and get out and look out over the mountains, which really do look blue.
Sometimes we buy souvenirs from extraordinary places, places we think we might only see once. But when I saw this key ring with its miniature sign, just a piece of paper wedged between two pieces of plastic, I wanted it because it represented a place I already knew well. Now the plastic shell is scuffed from banging around in my purse for years. Eventually, it will probably crack open and the paper will fall out, and then I'll get another one, at another gas station.
- - -
Key Ring Chronicles is a crowd-sourced project that explores the stories behind objects that people keep on their key rings. It was created and is overseen by Paul Lukas, who has kept a quarter with a hole drilled through it on his own key ring since 1987. Readers are encouraged to participate by sending photos and descriptions here.