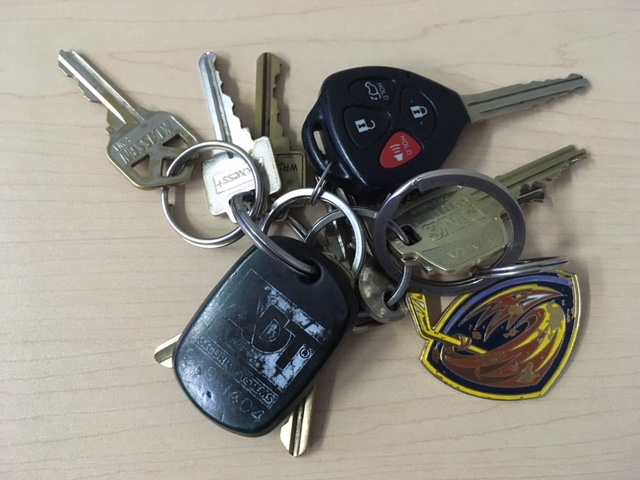 - - -
My grandfather was a bank vault alarm technician for ADT Security from the 1940s until his retirement in the 1980s. A lifelong Boston Red Sox fan, he was always a nervous character, prone to fidgety mannerisms. After he quit smoking, he managed to cope by rubbing a green rubber ADT fob on his key ring. He'd bring his keys out of his pocket and rub the fob, usually at the kitchen table at his house or at our family cabin. As a kid, I was always fascinated by the green glow of the rubber when it was held up to the light.
When the Red Sox finally won the World Series in 2004, Gramps, who by that time was 85 years old, said, "Now I can finally die happy." He lived another six years, but I noticed he no longer had the ADT fob on his key ring. I asked him why and he just said, "Ah, there's no need for it anymore." I'm not sure if he retired it specifically because of the Red Sox's victory or if I'm reading too much into it. Either way, the fob was relieved of its duties and retired to a hook on the wall.
When Gramps passed in 2010, I was asked if I wanted anything of his. Of course, I asked for the glowing ADT key fob. I have also inherited some of his nervous ticks, but I don't want to blemish his "worry stone," so I've gotten one for myself: an Atlanta Thrashers key tag, which I bought in 2011, just as the Thrashers were moving to Canada and renaming themselves as the Winnipeg Jets. (I live in Winnipeg and, coincidentally, was already a Thrashers fan even before the team relocated.) I have managed to keep my thumb off of the ADT fob and focus my fidgeting on the Thrashers one, taking off a bit of paint along the way. It received a lot of attention this past spring, when my daughter Blake decided to arrive two months early. Hopefully, she won't inherit her our family's nervous tics.
- - -
Key Ring Chronicles is a crowd-sourced project that explores the stories behind objects that people keep on their key rings. It was created and is overseen by Paul Lukas, who has kept a quarter with a hole drilled through it on his own key ring since 1987. Readers are encouraged to participate by sending photos and descriptions here.